Details
Dual-band wireless-AC3100 gigabit router
Ultra-fast 802.11ac Wi-Fi router with a combined dual-band data rate of 3167 Mbps for low latency online gaming, smooth 4K streaming and extremely fast file-sharing
Broadcom® NitroQAMTM technology boosts 5 GHz data rates up to 2167 Mbps and 2.4 GHz up to 1000 Mbps
4x4 antenna design with AiRadar universal beamforming for wireless signal coverage exceeding 465 m² (around 5000 square feet)
1.4 GHz dual-core processor improves USB and WAN/LAN speed
Support link aggregation for over 1 Gbps wired transfer
Up to 4X capacity Wi-Fi with revolutionary MU-MIMO technology
AiProtection for total security and privacy
8 Gigabit LAN ports for 2x the number of wired ports typically provided
Parental Controls let you manage your family's web activity and ensure a safe environment for younger users
You Smart Home Starts Here
RT-AC88U instantly takes your wireless network to the next level. The latest NitroQAM™ technology boosts the Wi-Fi speeds to everyone and everything on your busy network. With the widest-ever range, lightning-fast USB and WAN/LAN speed plus total security and 8 Gigabit LAN ports, the RT-AC88U is as well-rounded as it is top-of-the-line.
Ultimate Gaming and 4K Streaming
Everywhere Entertainment in Your Smart Home
AiProtection, Your Digital Playground is Safe
Your Digital Home Hub and Network Center
ASUSWRT, Easily Control Your Network
Ultimate Gaming and 4K Streaming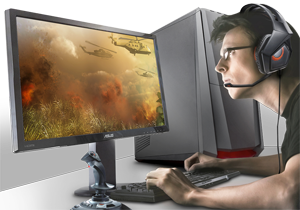 NitroQAM™ technology –Seamless Experience
Whether you're gaming online in a heated competition or streaming a live event in 4K/UHD, lag and buffering are simply not an option. NitroQAM™ (1024-QAM) technology on the RT-AC88U delivers a combined 3167 Mbps Wi-Fi speed, ensuring everyone on your network can enjoy smooth streaming and low-latency online gaming.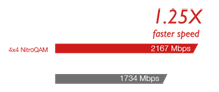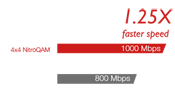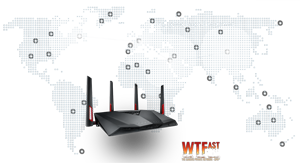 Free GPN™ Game Accelerator Inside
Ping time and variance are critical technical parameters that affect responsiveness in online gaming, and their values depend heavily on the route game packets take to and from their destination. The Gamers Private Network (GPN™) powered by WTFast automatically performs route optimization, choosing the most efficient route for game packets, resulting in consistently-lower ping time and minimal packet loss. With RT-AC88U this optimization is free , so users can enjoy the results on virtually every competitive multi-player online game — at no extra cost!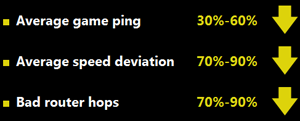 Adaptive QoS – Prioritize Your Game
Boost your gaming bandwidth with Adaptive QoS (Quality of Service), which allows you to easily prioritize gaming packets and activities. You can even assign full dedicated bandwidth while gaming under gamer solo mode, making RT-AC88U the perfect ally for low latency gaming anywhere in your home.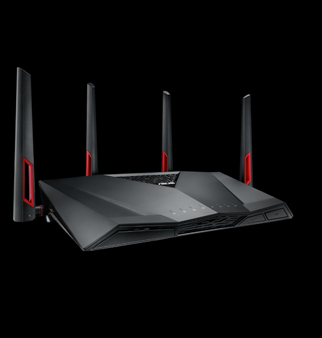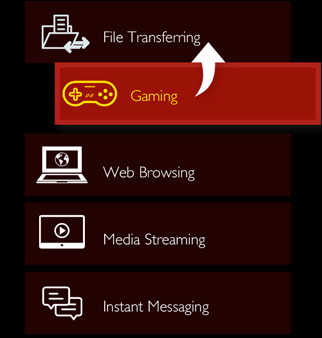 Cross-Platform Compatibility
Network speed impacts every device you game with on every platform you game on. The ASUS RT-AC88U delivers bandwidth and coverage for all your gaming devices, from consoles to PCs to mobile devices, and supports every operating system, including Windows®, Mac OS® and Linux®.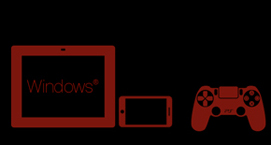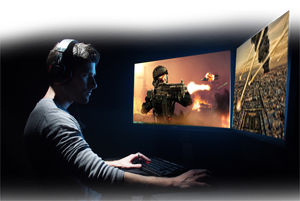 Free up PC system 'Resources' during gameplay
Networking is only half the equation when it comes to game performance. Anti-virus programs and 3rd party applications can consume valuable CPU and memory that could be reallocated to your game. With AiProtection on the RT-AC88U you can confidently turn off these utilities while you game, ensuring every available drop of resource is spent enhancing your game.
Everywhere Entertainment in Your Smart Home
Bandwidth for All
RT-AC88U is the master of entertaining, able to support as many devices as people you invite over and can even maintain multiple simultaneous Full HD 1080P streams. Beyond content consumption, the RT-AC88U enables a smarter home, supporting IP cameras, thermostats and a variety of devices you don't even own yet.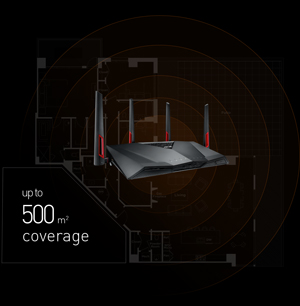 Unbeatable Coverage
With a four-transmit, four-receive (4T4R) antenna design, both Wi-Fi range and signal stability improve dramatically, able to reach our widest-ever coverage up to 500m2 (5400 ft2)1. AiRadar beamforming further focuses Wi-Fi signal on your devices, making your Wi-Fi faster, clearer and stronger.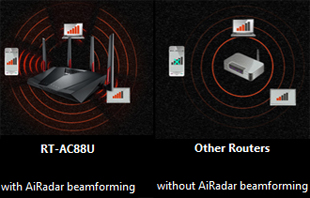 Powerful Processor, Faster Transfers
RT-AC88U's top-of-the-line 1.4 GHz dual-core processor brings its computational capability to the next level. USB data transfers enjoy up to over 100 MB/s speed and the router download/upload speed (WAN-LAN throughput) up to 1800 Mbps.
4X Capacity Wi-Fi with Revolutionary MU-MIMO Technology
MU-MIMO gives every compatible device8 its own dedicated full-speed Wi-Fi connection, so that multiple devices can connect at the same time without slowing down the network. In fact, RT-AC88U is able to connect to multiple MU-MIMO-compatible clients at each device's maximum speed simultaneously, unlike standard single-user MIMO where individual devices have to wait for sequential transmissions.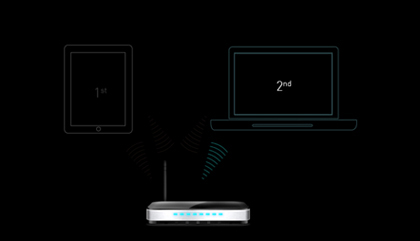 Single-user MIMO
Serve one device at a time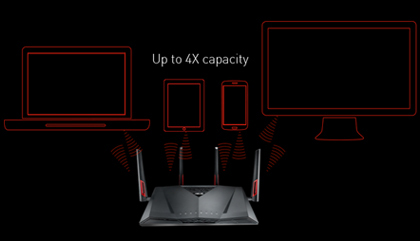 Multi-user MIMO
Serve multi-device at a time
AiProtection – Your Digital Playground is Safe
ASUS AiProtection powered by Trend Micro™ ensures your online experience is safe and secure. By combining automatic vulnerability detection, malicious site blocking and parental controls, AiProtection keeps everyone safe and sound.

Parental Controls
Monitor and restrict internet activity for any user
Advanced parental controls help you to prevent users from visiting inappropriate websites, for example keeping young children safe from viewing adult content. You can also restrict the times that each device or guest account can access the internet, by applying scheduled time limits.
Your Digital Home Hub and Network Center
Expansive Connectivity Options
RT-AC88U exclusively has eight Gigabit LAN ports – twice the number most routers provide – for up to eight Ethernet-compatible devices to connect simultaneously. Smart TVs, game consoles, set top boxes, media players, NAS storage devices and more can now have their own dedicated ports, making RT-AC88U your digital home hub.

Your sharing center
With built-in USB 3.0 and USB 2.0 ports, you can connect USB-enabled devices, such as external storage drives, printers, or a 3G/4G dongle to your ASUS router and share them conveniently with other users via Wi-Fi. And with USB 3.0, you can enjoy up to 10X faster data transfer speeds.
Link Aggregation, More Devices Go Faster
RT-AC88U features Link Aggregation, which combines two teaming LAN ports (the 1st and 2nd port) into one superfast wired connection for up to 2 Gbps using two Gigabit Ethernet cables. With Link Aggregation enabled on your NAS, clients can unlock unprecedented transfer speeds.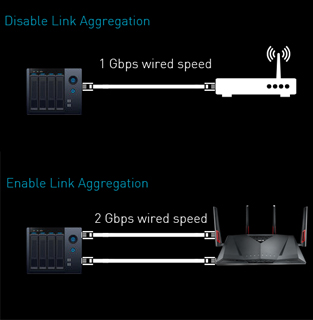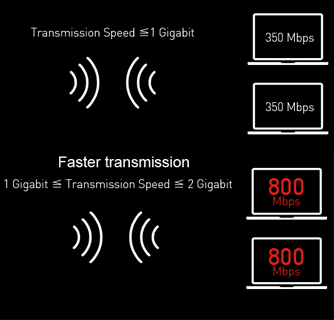 *Device speeds vary according to Wi-Fi specifications and environmental factors.
ASUSWRT –Easily Control Your Network
RT-AC88U features the enhanced, intuitive ASUSWRT user interface, which gives you easy access to both the 3-step web-based installation process and a wealth of robust advanced options.
Disclaimers:
The actual performance may vary as a result of network conditions and environmental factors.
Windows is either registered trademarks or trademarks of Microsoft Corporation in the United States and/or other countries.?
Mac OS® is a trademark of Apple Inc.
Linux® is the registered trademark of Linus Torvalds in the U.S. and other countries.
The actual performance may vary as a result of the number and specification of devices connected.
MU-MIMO-certified client(s) required.
Details
Network Standard

IEEE 802.11a, IEEE 802.11b, IEEE 802.11g, IEEE 802.11n, IEEE 802.11ac, IPv4, IPv6

Product Segment

AC3100 ultimate AC performance : 1000+2167 Mbps

Coverage

Very large homes

Data Rate

802.11a : 6,9,12,18,24,36,48,54 Mbps
802.11b : 1, 2, 5.5, 11 Mbps
802.11g : 6,9,12,18,24,36,48,54 Mbps
802.11n : up to 600 Mbps
802.11ac : up to 1734 Mbps
1024QAM (2.4GHz) : up to 1000 Mbps
1024QAM (5GHz) : up to2167 Mbps

Antenna

External antenna x 4

Transmit/Receive

MIMO technology
2.4 GHz 4 x 4
5 GHz 4 x 4

Processor

1.4 GHz dual-core processor

Memory

128 MB Flash
512 MB RAM

Wi-Fi Technology

Beamforming: standard-based and universal
1024-QAM high data rate
20/40/80 MHz bandwidth

Operating Frequency

2.4 GHz / 5 GHz

Encryption

64-bit WEP, 128-bit WEP, WPA2-PSK, WPA-PSK, WPA-Enterprise , WPA2-Enterprise , WPS support

Firewall & Access Control

Access control:Parental control, Network service filter, URL filter, Port filter

Management

UPnP, IGMP v1/v2/v3, DNS Proxy, DHCP, SNMP, NTP Client, DDNS, Port Trigger, Virtual Server, DMZ, System Event Log

WAN Connection Type

Internet connection type : Automatic IP, Static IP, PPPoE(MPPE supported), PPTP, L2TP

Utilities

Router setup wizard; Firmware restoration; Device discovary; printer setup utility

Ports

RJ45 for Gigabits BaseT for WAN x 1, RJ45 for Gigabits BaseT for LAN x 8
USB 2.0 x 1
USB 3.0 x 1

Button

WPS Button, Reset Button, Power Button, Wireless on/off Button, LED on/off Button

Features

Link Aggregation
MU-MIMO
Traffic Analyzer
Adaptive QoS
AiProtection
Parental Control
Guest Network : 2.4 GHz x 3, 5 GHz x 3
VPN server : IPSec Pass-Through, PPTP Pass-Through, L2TP Pass-Through, PPTP Server, OpenVPN Server
VPN client : PPTP client, L2TP client, OpenVPN client
Mac OS Backup
Enhanced media server (AiPlayer app compatible)
- Image : Jpeg
- Audio : mp3, wma, wav, pcm, mp4, lpcm, ogg
- Video : asf, avi, divx, mpeg, mpg, ts, vob, wmv, mkv, mov
AiCloud personal cloud service
3G/4G data sharing
Printer Server
- Multifunctional printer support (Windows only)
- LPR protocol support
Download Master
- Support bt, nzb, http, ed2k
- Support encryption, DHT, PEX and magnet link
- Upload and download bandwidth control
- Download scheduling
AiDisk file server
- Samba and FTP server with account management
Dual WAN
IPTV support
Roaming Assist

LED Indicator

Power x 1
Wi-Fi x 2
WAN x 1
USB x 2
WPS x 1
LAN x 1

Power Supply

AC Input : 110V~240V(50~60Hz)
DC Output : 19 V with max. 2.37 A current

Dimensions

11.8 x 7.4 x 3.3 ~ inch (WxDxH)

Weight

 

Operation mode

Wireless router mode
Access point mode
Media bridge mode
Details
Shipping Calculator
Skycomp Technology uses the best carriers in the business to make sure your order gets to you on time.
Australia Post eParcel
eParcel generally takes 2-10 business days to be delivered depending on final destination.
We recommend you use this service for PO Box or if you believe your delivery address will be unattended as you will be able to collect this from your local Post Office.
Australia eParcel Express
eParcel Express generally takes 1-3 business days to be delivered depending on final destination.
We recommend you use this service for PO Box or if you believe your delivery address will be unattended as you will be able to collect this from your local Post Office.
Other prefered partner
• Local Express:Delivered in 1-2 Business Days
• Nationwide Delivery: 1-4 Business Days*
• Nationwide Express: Next Business Day*
*Allow extra days for regional areas
All orders will be shipped from our Australian (NSW/QLD/VIC/WA) warehouses. More than 95% order are shipped via Australia Post E-Parcel and some from our preferred Partner listed below:
Following are the contact details of the freight companies we use:
IN STORE PICK UP IN SYDNEY
Ph: 02-92800583
Usually 24 hours after placing your order.