Details
FEATURES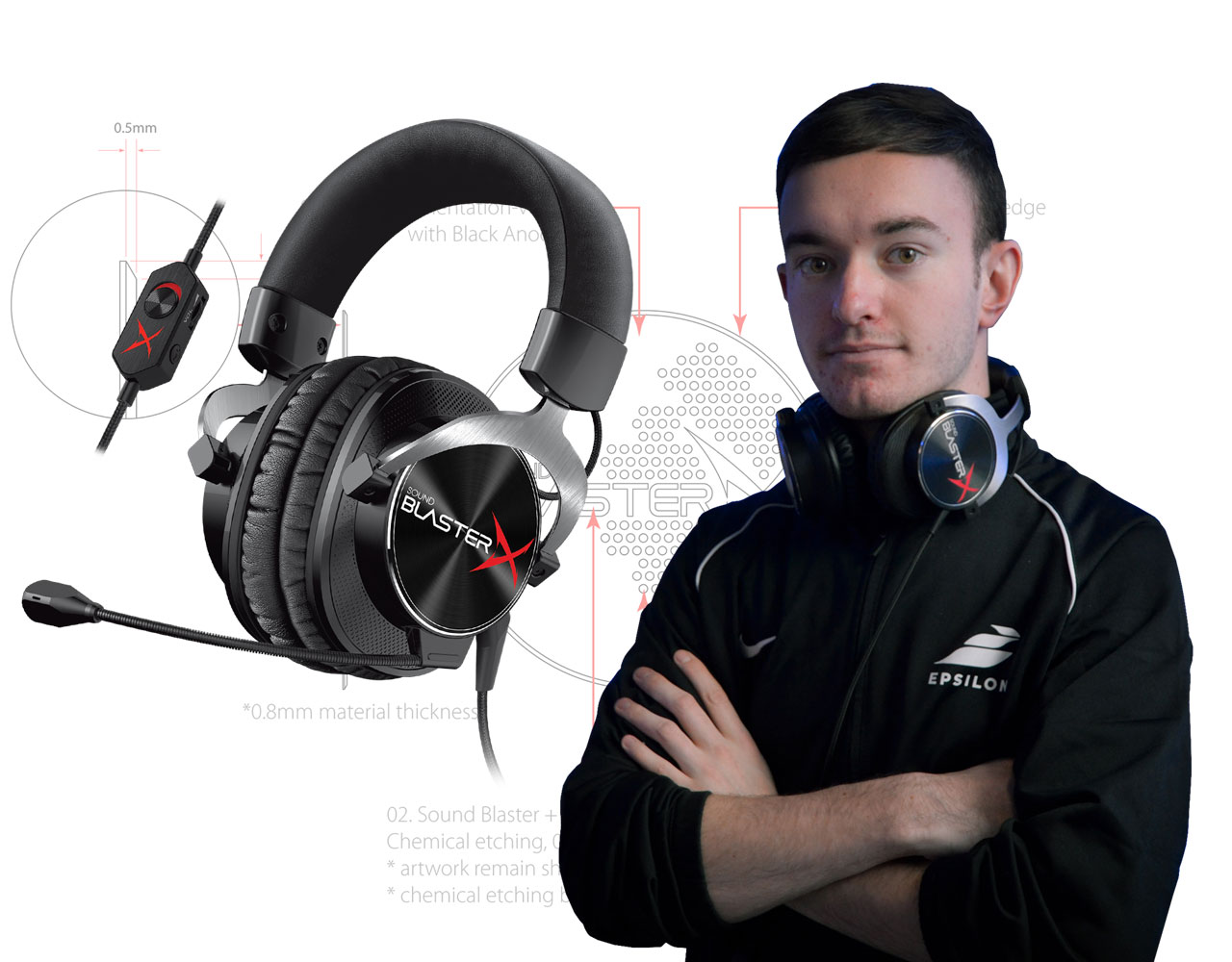 Stand Out from the Rest, With Sound BlasterX H5 Special Edition
Specifically designed for our pro-gaming teams, the H5 Special Edition is distinctly branded with a BlasterX label on both side-plates.
Fans could use this chance to take their loyalty to a whole new level. Every time they put them on, it's a way of showing their appreciation for great sound and comfort, and what they consider as the ultimate weapon for their gameplay!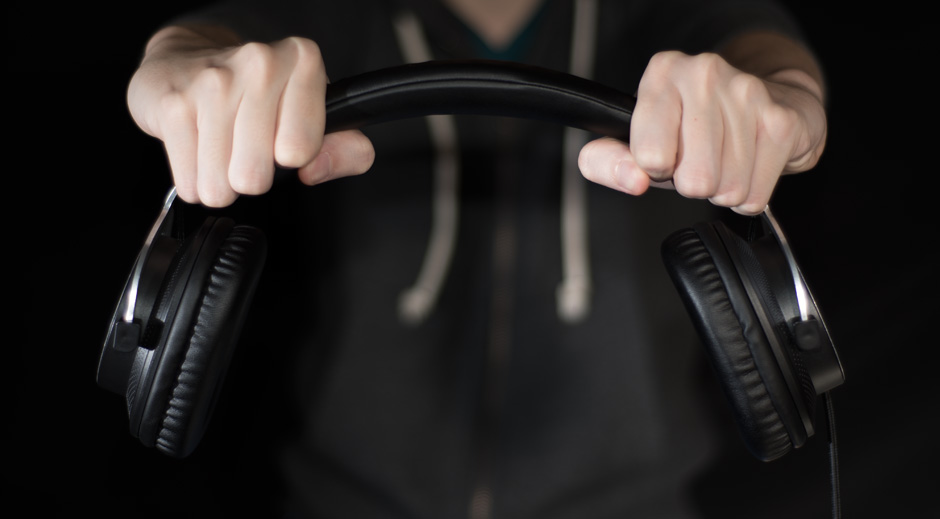 Engineered to Be Lightweight, yet Durable
Designed with a durable steel and aluminium architecture, the Sound BlasterX H5 is light to wear, and bring around, yet tough enough to maintain its structural integrity from everyday wear and tear.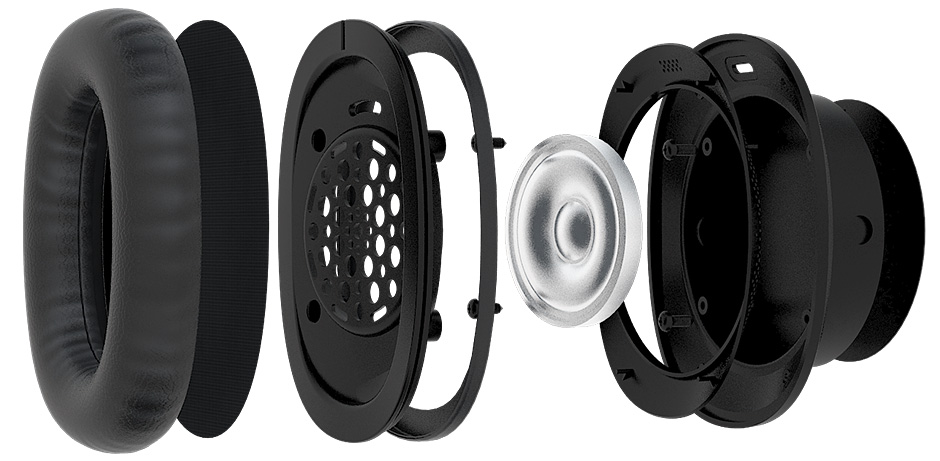 Responsive Audio Cues for High Performance Gameplay
Experience your game the way it's meant to be heard. The Sound BlasterX H5 is equipped with large, responsive 50mm FullSpectrum drivers that deliver astounding sound.
Rated at 118dB/mW, the Sound BlasterX H5 is among the loudest gaming headsets of its class. Feel the tremor of every bone-shattering explosion and hear the rattle of gunfire in your gameplay, like no other.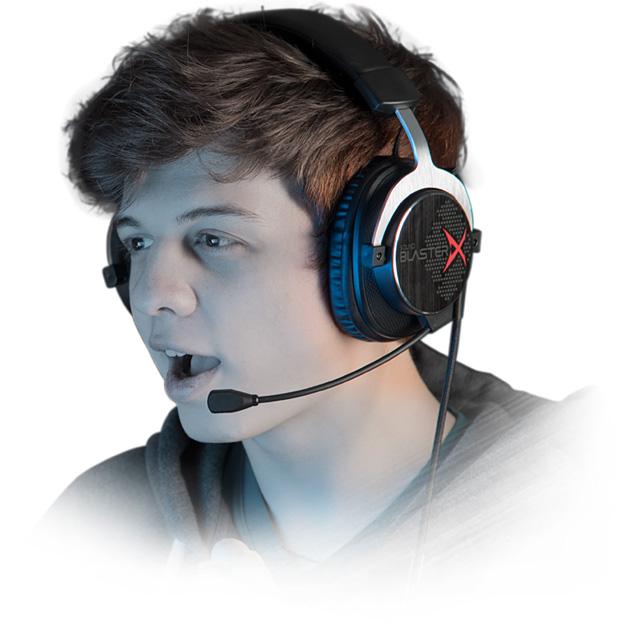 Ergonomic Design for the Ultimate Comfort
The Sound BlasterX H5 is made for long gaming sessions. Featuring a premium blend of soft-touch plastics, memory foam and plush leatherette that complements its sturdy metallic architecture, the Sound BlasterX H5 boasts superior comfort and ergonomics to keep you focused on your game all day, even if you are a gamer who wears eyewear.
Through the clever use of physics and mechanical engineering, the highly flexible, single-piece reinforced steel band bends all the way around the head with optimal clamping force and ample flexibility for a snug fit—on heads of all shapes and sizes—for a comfortable fit without compromising stability and sturdiness.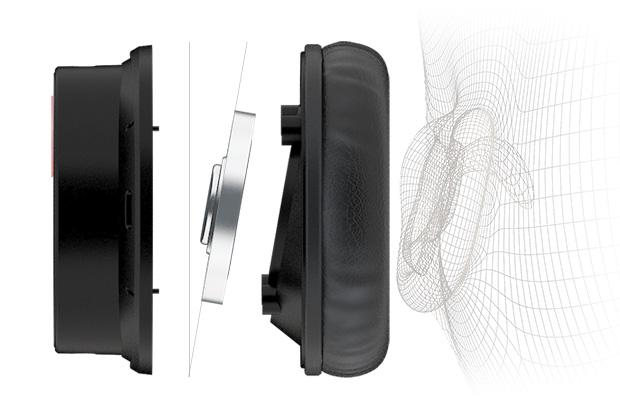 Tilt Driver Design
The Sound BlasterX H5 is designed with a tilt driver implementation that creates a mini acoustic chamber to minimize resonance within the earcups. The result is that you experience extra clarity across the frequencies and better sound separation where every detail crisp and clear.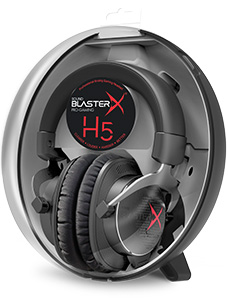 Dynamic Sound Signature
The Sound BlasterX H5 comes pre-tuned out of the box with a dynamic sound signature3. What this means is that we tuned this headset to not overemphasize on any particular frequency domain. The end result is a solid and natural sound for enhanced clarity and precision for gamers.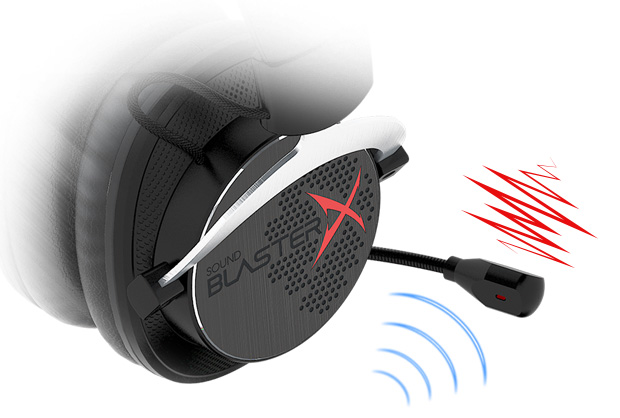 Hear Only Your Voice
The detachable noise-reduction microphone filters ambient sounds so you can be heard clearly, even in a noisy environment.
When you're not gaming, detach your microphone from the headset and you'll get a pair of compact headphones that's ready for great music on the go.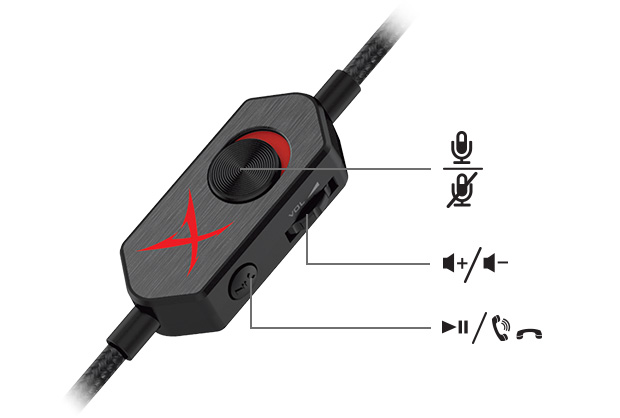 One-touch Convenience
With the inline remote, you're in control of your music, volume and voice calls - easy and convenient!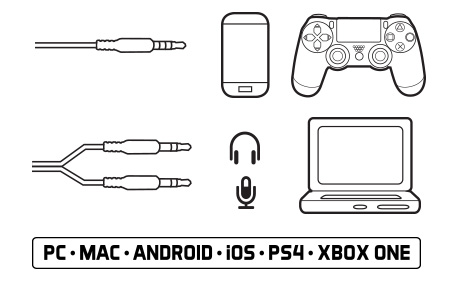 Seamless Connectivity
The Sound BlasterX H5 offers a wide range of connectivity options for a holistic gaming experience. The 3.5mm 4-pole jack cable can be used with any smart device such as your iPhone and iPad, as well as today's gaming consoles2 such as PlayStation®4.
There's an included 1.2m Y-splitter cable (that fits the older 3-pole plug-in implementation) where one jack is used for microphone input, and the other for audio output.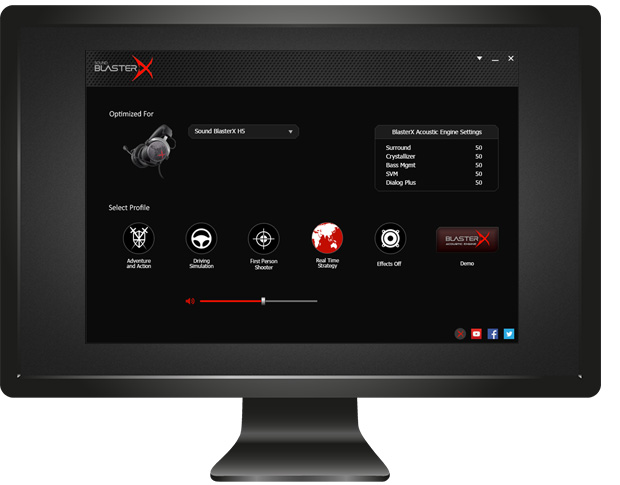 Enhance Your Hearing with Sound BlasterX Acoustic Engine Lite Software
Although the headset sounds great on its own, we have tapped into our rich history of creating class-leading audio algorithms to take the sound of the Sound BlasterX H5 beyond the realm of its physical limitations through audio enhancements optimized for your gameplay.
Available for Windows®, Sound BlasterX Acoustic Engine Lite1 offers preset audio profiles specially programmed according to the audio settings of popular games today. When activated, these profiles bring out the essence of the game you are playing. From the whizz of bullets flying past your ear in your favorite FPS game to the terrifying roar of a troll from an adventure game, these sounds come alive with our professionally tweaked enhancements!
Details
SPECIFICATIONS

Audio Processing

BlasterX Acoustic Engine Lite (Preset Profiles)

Audio Drivers

50mm FullSpectrum

Headset Frequency Response

20Hz ~ 20kHz

Interface

3.5mm Stereo Input

Supported Operating Systems

for Windows

Supported Gaming Consoles

PlayStation® 4 via 3.5mm 4-pole audio cable, Xbox One™ via 3.5mm 4-pole audio cable (With Xbox One Stereo Headset Adapter)

SYSTEM REQUIREMENTS
For Sound BlasterX Acoustic Engine Lite

Intel® Core™2 Duo or AMD® equivalent processor (2.8 GHz or faster recommended)
Intel, AMD or 100% compatible motherboard
Microsoft® Windows 10, Windows 8.1/8.0 32/64 bit, Windows 7 32/64 bit
1GB RAM
>600 MB of free hard disk space

PACKAGE CONTENTS

Sound BlasterX H5 Headset
Detachable 3.5mm 4-pole to 4-pole jack braided cable with controls length 1.2m
Extension Audio / Microphone splitter cable 1.2m
Quick Start Leaflet

WARRANTY
1-year Limited Hardware Warranty
Details
Shipping Calculator
Skycomp Technology uses the best carriers in the business to make sure your order gets to you on time.
Australia Post eParcel
eParcel generally takes 2-10 business days to be delivered depending on final destination.
We recommend you use this service for PO Box or if you believe your delivery address will be unattended as you will be able to collect this from your local Post Office.
Australia eParcel Express
eParcel Express generally takes 1-3 business days to be delivered depending on final destination.
We recommend you use this service for PO Box or if you believe your delivery address will be unattended as you will be able to collect this from your local Post Office.
Other prefered partner
• Local Express:Delivered in 1-2 Business Days
• Nationwide Delivery: 1-4 Business Days*
• Nationwide Express: Next Business Day*
*Allow extra days for regional areas
All orders will be shipped from our Australian (NSW/QLD/VIC/WA) warehouses. More than 95% order are shipped via Australia Post E-Parcel and some from our preferred Partner listed below:
Following are the contact details of the freight companies we use:
IN STORE PICK UP IN SYDNEY
Ph: 02-92800583
Usually 24 hours after placing your order.
Have you considered this?
| | | | | |
| --- | --- | --- | --- | --- |
| | | | | |