AOC M2870VQ 28" MVA Widescreen LED Monitor Display
/ ITEM NO: 473394
Stock Level:
Enfield Store
Online
Delivery
Usually ships within 30 minutes
Click & Collect
Usually be ready for collection within 30 minutes
Paypal/MasterCard/Visa/Amex
Overview
http://aoc-europe.com/en/products/m2870vq#product-detail-technical
Shipping Calculator:
Loading...
Description
With the m2870Vq, AOC introduces its first monitor with the extra-large screen diagonal of 71.1 cm (28"). The LED-backlit monitor from the Value Line employs a top-notch MVA panel, delivering wide viewing angles and the superb typical contrast of 3000:1. Combined with a pixel response time of 5 ms and a high luminance of 300cd/m², the widescreen model stuns with super-crisp images in Full HD resolution. No matter if you want to use the m2870Vq for office applications, for watching movies or even for playing games – simply connect your sources via D-Sub, DVI-D,HDMIor DisplayPort and enjoy a first class viewing experience. Despite its enormous size, the m2870Vq fulfils demanding sustainability standards thanks to its energy-efficient LED backlights. Magnify your monitor with the m2870Vq!
Details
Size

28"

Resolution

1920x1080@60Hz

Inputs

D-Sub , DVI , HDMI , Displayport

Response time

5 ms

Features

Plug and Play, i-Menu, e-Saver, Vesa Wallmount
Features
Three-Year Warranty
AOC stands behind the quality of each and every monitor with a generous three-year warranty starting from the original date of purchase. Within the warranty period, any AOC displays with manufacturing defects or faulty components will be repaired or replaced at no additional charge. Read the complete AOC warranty statement for more information.
HDMI input
High Definition Multimedia Interface or HDMI is a global standard for digitally transmitting high-definition video and multichannel audio. This versatile single-cable solution allows you to easily connect your display to devices like computers, laptops, game consoles and media players.
DisplayPort
DisplayPort offers ultra-fast digital audio and video transmission without quality loss or input lag. Quickly and easily connect a range of devices to your screen, including your computer, laptop, media player, game console and more. It's perfect for professionals as well as the most demanding home users.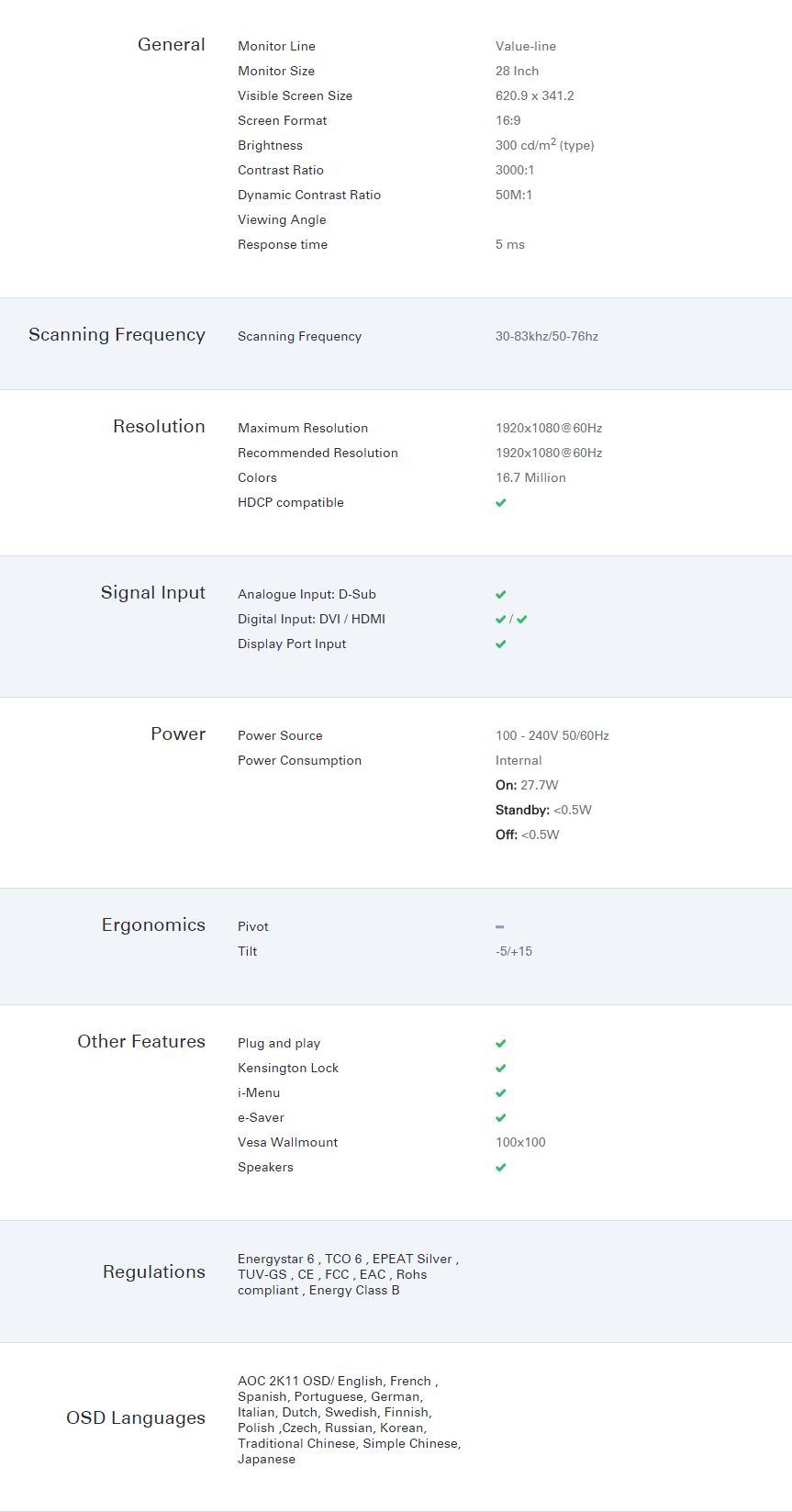 More Information
Price

$249.00

Description

Description

With the m2870Vq, AOC introduces its first monitor with the extra-large screen diagonal of 71.1 cm (28"). The LED-backlit monitor from the Value Line employs a top-notch MVA panel, delivering wide viewing angles and the superb typical contrast of 3000:1. Combined with a pixel response time of 5 ms and a high luminance of 300cd/m², the widescreen model stuns with super-crisp images in Full HD resolution. No matter if you want to use the m2870Vq for office applications, for watching movies or even for playing games – simply connect your sources via D-Sub, DVI-D,HDMIor DisplayPort and enjoy a first class viewing experience. Despite its enormous size, the m2870Vq fulfils demanding sustainability standards thanks to its energy-efficient LED backlights. Magnify your monitor with the m2870Vq!

Details

Size

28"

Resolution

1920x1080@60Hz

Inputs

D-Sub , DVI , HDMI , Displayport

Response time

5 ms

Features

Plug and Play, i-Menu, e-Saver, Vesa Wallmount

 

 

 

 

 

 

 

 

 

 

Features

Three-Year Warranty

AOC stands behind the quality of each and every monitor with a generous three-year warranty starting from the original date of purchase. Within the warranty period, any AOC displays with manufacturing defects or faulty components will be repaired or replaced at no additional charge. Read the complete AOC warranty statement for more information.

HDMI input

High Definition Multimedia Interface or HDMI is a global standard for digitally transmitting high-definition video and multichannel audio. This versatile single-cable solution allows you to easily connect your display to devices like computers, laptops, game consoles and media players.

DisplayPort

DisplayPort offers ultra-fast digital audio and video transmission without quality loss or input lag. Quickly and easily connect a range of devices to your screen, including your computer, laptop, media player, game console and more. It's perfect for professionals as well as the most demanding home users.

Short Description
http://aoc-europe.com/en/products/m2870vq#product-detail-technical
Stock Type
In stock (Sydney)
SKU
M2870VQ
ETA
No
UPC
4038986184373
Promotion Text
No
mapping_id
aa73dd9d-8737-4efa-bb10-931200859c7b