CoolerMaster N300 Mid-tower Case Black USB3 W/O PSU
/ ITEM NO: 356328
Stock Level:
Enfield Store
Online
Delivery
Usually ships within 30 minutes
Click & Collect
Usually be ready for collection within 30 minutes
Paypal/MasterCard/Visa/Amex
Overview
http://www.coolermaster.com/case/mid-tower/n300/
Shipping Calculator:
Loading...
CoolerMaster N300 Mid-tower Case Black USB3 W/O PSU
The new Cooler Master N300 is a mid-tower designed for optimum cooling. There are four models to choose from by single / dual USB 3.0 support and side panel window. To keep constant cooling, the front panel is fully covered by mesh, and thanks to the SickleFlow fans, N300 generates extreme high airflow and keep silence for long-time operation. If you prefer liquid cooling solutions, installing 240mm or 120mm radiators in N300 won't be a problem as well. The 240mm radiator can be installed at the top or on the right side, and the 120mm one - in the rear. Additionally, N300 supports up to 8 HDDs and high-end graphics cards up to 320mm / 12.6 inch for a plenty of expansion.
• Full mesh on the front panel
• Supports a 240mm liquid cooling radiator or two 120mm fans on the right side / at the top
• Supports a 120mm liquid cooling radiator in the rear
• Supports high-end graphics cards up to 320mm / 12.6 inch, including NVIDIA GTX 690 & AMD HD 7990
• Supports up to 8 HDDs (2 tool-less)
• Dust filter under the PSU for easy maintenance
• Accessible power switch button with blue LED illuminated when the power is on
• Super Speed USB 3.0 Support (KKN1 / KWN1); Dual USB 3.0 Support (KKN2/ KWN2)
• Includes two SickleFlow 120mm fans arranged for optimum airflow in the front and rear with support for up to 8 fans (KKN1) / 7 fans (KWN1)
• Includes one SickleFlow 120mm fan (no LED) in the rear for optimum airflow with support for up to 8 fans (KKN2) / 7 fans (KWN2)
• Large side panel window (KWN1 / KWN2)
• Can install one optional 120/140mm fan on the left side panel to cool the graphics cards (KKN1 / KKN2)
| | |
| --- | --- |
| Model | NSE-300-KKN1|KWN1|KKN2|KWN2 |
| Available Color | Midnight Black |
| Materials | Polymer, mesh front bezel |
| Dimension | 190 x 426 x 491.5 mm / 7.5 x 16.7 x 19.3 inch (W x H x D) |
| Net Weight | 5.2 kg / 11.5 lbs |
| M/B Type | microATX, ATX |
| 5.25" Drive Bays | 2 (exposed) |
| 3.5" Drive Bays | 1 (exposed), 7 (hidden) |
| 2.5" Drive Bays | 1 (hidden) |
| I/O Panel | NSE-300-KKN1 / NSE-300-KWN1: USB 3.0 x 1 (int.), USB 2.0 x 2, Mic x 1, Audio x 1 (supports AC97 / HD Audio) NSE-300-KKN2 / NSE-300-KWN2: USB 3.0 x 2 (int.), Mic x 1, Audio x 1 (supports AC97 / HD Audio) |
| Expansion Slots | 7 |
| Cooling System | Top: 120mm fan x 2 (optional) Front (KKN1 / KWN1): 120mm fan x 2 (one SickleFlow fan installed, one optional); or 140mm fan x 1 (optional) Front (KKN2 / KWN2): 120mm fan x 2 or 140mm fan x 1 (optional) Rear: 120mm SickleFlow fan x 1 (installed) Left Side: 120/140mm fan x 2 (for KKN1 / KKN2 only) Right side: 120mm fan x 2 (optional) |
| Power Supply Type | Standard ATX PS2 |
| Maximum Compatibility | VGA card length: 320 mm / 12.6 inch CPU cooler height: 164mm / 6.4 inch |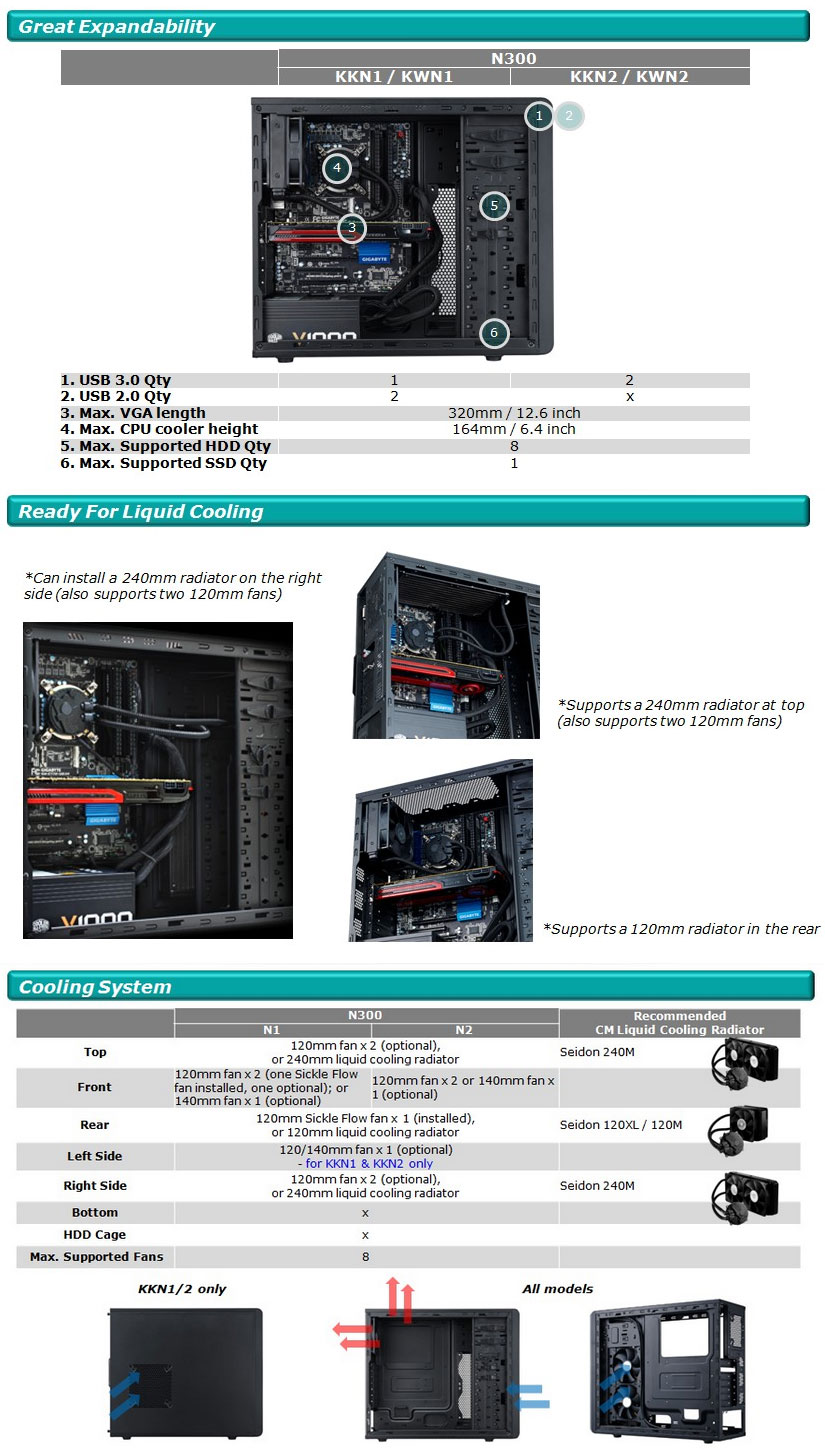 Brand
Cooler Master
Dimension
190 x 426 x 491.5 mm / 7.5 x 16.7 x 19.3 inch (W x H x D)
Drive Bays
5.25" Drive Bays x2 (Exposed)
3.5" Drive Bays x1 (Exposed) 7x (Hidden) 2.5" Drive Bays: x1 (Hidden)

Mainboard Support
MicroATX & ATX
Front panel I/O Ports
USB 3.0 x 2 (int.), Mic x 1, Audio x 1 (supports AC97 / HD Audio)
Colour
Black
Manufacturer Warranty

2 Years Manufacturer Warranty

Manufacturer Contact Info

http://www.coolermaster.com
NA