Edimax AC1200 Dual-Band Wi-Fi PCI-E Adapter
Paypal/MasterCard/Visa/Amex
Retail Price $99
$59
Save $40
SKU#:
EW-7822PIC
/
ITEM NO: 654969
/
BRAND: Edimax
Shipping Calculator:
Loading...
Super High-Speed AC1200 Dual-Band Wi-Fi: Next generation AC1200 Wi-Fi for HD streaming and gaming with transfer speeds up to 300Mbps (2.4GHz) or 867Mbps (5GHz)
Long Range: High-output power design with high-gain antennas to penetrate walls for better Wi-Fi performance
Ideal for Gaming PCs: Instant Wi-Fi upgrade for your desktop. High-speed AC1200 Wi-Fi without inconvenient cables
Flexible Installation & Placement: Low profile bracket included and magnetic antenna stand for flexible antenna positioning

Edimax Edimax Technology Co. Ac1200 Dual-band Wi-fi Pci-e Adapter
The next generation 802.11ac wireless standard is revolutionizing Wi-Fi. Super-speed 802.11ac dual-band routers are already available but wireless devices are still stuck with 802.11n technology. Upgrade your desktop computer to dual-band 802.11ac with a PCI-E adapter for blistering Wi-Fi speeds on the interference free 5GHz frequency band. The EW-7822PIC features two detachable high gain antennas providing high-performance Wi-Fi coverage. Including an additional magnetic stand to find the best antenna location to optimize wireless operation range and backwards compatible with 802.11a/b/g/n wireless devices. 



Super High-Speed AC1200 Wi-Fi
Compatible with the IEEE 802.11ac standard and delivering speeds of up to 867Mbps at 5GHz, almost three times as fast as 802.11n. Upgrade PC's to super high speed 802.11ac Wi-Fi and enjoy streaming video and data.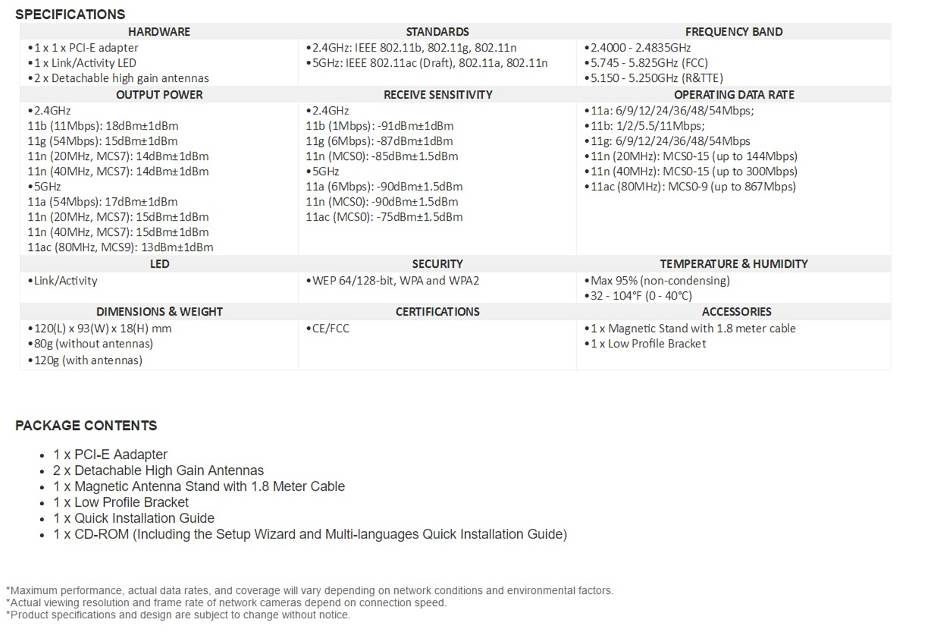 HARDWARE

STANDARDS

FREQUENCY BAND

•1 x 1 x PCI-E adapter
•1 x Link/Activity LED
•2 x Detachable high gain antennas


•2.4GHz: IEEE 802.11b, 802.11g, 802.11n
•5GHz: IEEE 802.11ac (Draft), 802.11a, 802.11n


•2.4000 - 2.4835GHz
•5.745 - 5.825GHz (FCC)
•5.150 - 5.250GHz (R&TTE)

OUTPUT POWER

RECEIVE SENSITIVITY

OPERATING DATA RATE

•2.4GHz
11b (11Mbps): 18dBm±1dBm
11g (54Mbps): 15dBm±1dBm
11n (20MHz, MCS7): 14dBm±1dBm
11n (40MHz, MCS7): 14dBm±1dBm
•5GHz
11a (54Mbps): 17dBm±1dBm
11n (20MHz, MCS7): 15dBm±1dBm
11n (40MHz, MCS7): 15dBm±1dBm
11ac (80MHz, MCS9): 13dBm±1dBm

•2.4GHz
11b (1Mbps): -91dBm±1dBm
11g (6Mbps): -87dBm±1dBm
11n (MCS0): -85dBm±1.5dBm
•5GHz
11a (6Mbps): -90dBm±1.5dBm
11n (MCS0): -90dBm±1.5dBm
11ac (MCS0): -75dBm±1.5dBm 

•11a: 6/9/12/24/36/48/54Mbps;
•11b: 1/2/5.5/11Mbps;
•11g: 6/9/12/24/36/48/54Mbps
•11n (20MHz): MCS0-15 (up to 144Mbps)
•11n (40MHz): MCS0-15 (up to 300Mbps)
•11ac (80MHz): MCS0-9 (up to 867Mbps) 


LED

SECURITY

TEMPERATURE & HUMIDITY

•Link/Activity

•WEP 64/128-bit, WPA and WPA2 


•Max 95% (non-condensing)
•32 - 104°F (0 - 40°C) 


DIMENSIONS & WEIGHT

CERTIFICATIONS

  ACCESSORIES

•120(L) x 93(W) x 18(H) mm
•80g (without antennas)
•120g (with antennas)

•CE/FCC

•1 x Magnetic Stand with 1 meter cable

•1 x Low Profile Bracket
Manufacturer Warranty

12 Months Limited Warranty