Logitech Meetup Display Mount 939-001498
Delivery
Usually ships within 24-48 hours
Paypal/MasterCard/Visa/Amex
Retail Price $179
$134
Save $45
SKU#:
939-001498
/
ITEM NO: 681993
/
BRAND: Logitech
Shipping Calculator:
Loading...
Picture shown is for illustration purpose only
Please refer to Manufacturer SKU for the exact details

Logitech 939-001498 Meetup Tv Mount
SECURELY MOUNT LOGITECH MEETUP TO A TV OR MONITOR
Logitech TV Mount for MeetUp securely holds the MeetUp ConferenceCameither above or below a flat-panel monitor and attaches to the industry-standard VESA mounting points available on most TVs and monitors.
ATTACH ABOVE OR BELOW MONITORS

The TV mount's unique design allows MeetUp to be mounted above or below a monitor. Attaching MeetUp below the TV tends to provide the most natural video experience, but this mount offers both options.

WORKS WITH MOST FLAT-PANEL TVS

Most TVs follow the VESA standard for locating mounting points on the back of TVs. The TV Mount for MeetUp features a swing arm design and multiple mounting holes to fit almost any flat-panel monitor.
DIMENSIONS Height x Width x Depth: 400 mm x 83 mm x 16 mm Weight: 280 g
SYSTEM REQUIREMENTS Logitech MeetUp
TECHNICAL SPECIFICATIONS Mounting pattern: VESA standard with alternating 8mm and 6mm holes.
PACKAGE CONTENTS TV mount Mounting hardware User documentation
WARRANTY INFORMATION 2-Year Limited Hardware Warranty
PART NUMBER PN: 939-001498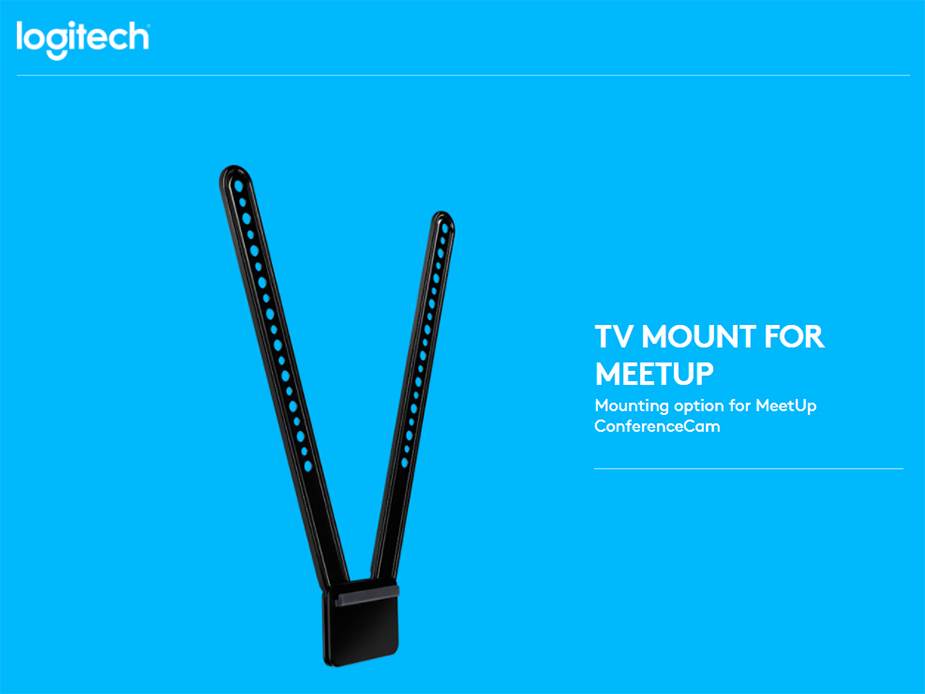 Manufacturer Warranty

2 Years Limited Warranty

Manufacturer Contact Info

http://www.logitech.com
1800 025 544