Laser PB-CJ12000 12000 mAh Car Jump Starter
Paypal/MasterCard/Visa/Amex
Retail Price $130
$125
Save $5
SKU#:
PB-CJ12000
/
ITEM NO: 586808
/
BRAND: Laser Co
Shipping Calculator:
Loading...
12000mah Emergency Power with Clippers for Car Battery
Laser PB-CJ12000 12000 mAh Car Jump Starter
Overview The LASER PB-CJ12000 Portable Power Bank and Car Jump Starter is the big daddy of Power banks. Firstly, it's a power bank which has the power to FAST CHARGE smartphones, tablets and other USB powered devices. Second, it's a car jump starter and has enough power to get your car up and running from a flat battery. Lastly, it has a high intensity LED flash with a strobe function, just in case you need to attract attention. The PB-CJ12000 is lightweight and small enough to fit in your pocket, handbag, car glove box or desk drawer. The high quality Lithium cells gives you up to twelve months of standby time, and multiple in built protection circuits ensure safe usage for you and your equipment.
Features Safe Within built circuitry for over-current, short-circuit, overload, over-voltage, over-charging and reverse polarity you can be assured that you, your equipment and your car's sensitive electronics are protected. Furthermore all Laser powerbanks are certified safe to use and are compliant with Australian electrical safety guidelines.
Precharged Our powerbanks are precharged which means out of the box they are ready to go.
Long Life Using high quality Lithium cells with maximum efficiency, our Powerbanks hold charge longer and typically return more than 75% charge after 6 months.(*dependent on storage conditions)
The charging tips and chargers are included Yes, in the (hard case) box, we include popular 9 pin (for newer Apple devices); 30 pin (for older Apple Devices) and Micro and Mini USB (for most other devices). Simply connect the multi plug cable into the PB-CJ12000 and charge away. For car starting, we include heavy duty car alligator clips (Red and Black colour coded) which has built in safety circuitry in the cable. In the pack we also include a 240v Home wall charger and a 12vDC car cigarette socket charger (note - to fully charge the power bank, you will need more than 7 hours using the wall charger - hey, it's 12000mAh - that's a lot!)
High Power output gets your devices charged FASTER With 2.1Amps (10.5 watts) of power output from the USB port, your devices (especially tablets and larger smartphones) will charge faster
Start your engines With 400CCA'S (Cold Cranking Amps), you can start most engines (such as 4, 6 and some 8 cylinders as well as many diesel engines). This includes cars, boats and motorcycles(12v). In fact, you don't even need the dead / dying battery connected. The PB-CJ12000 will start a car without the car's battery *(just on the power bank alone).. NOTE: the power output for vehicle starting is 12v DC. It will not work on 6v systems (like some motorbikes, watercraft and machinery)
Up to 20 car Jump starts and 7 smartphone charges With 12,000 mAH of capacity,in independent testing, we've started 20 cars* with no car battery connected. So imagine the benefits here, it will not only get you back on the road, but you could re-start your car if you had to pull over or stop (like to get petrol). *(the test was conducted on typically newer 4 cylinder cars) older cars and/or big engines may not offer the same number of charges due to the current required to turn the starter motor. Some later model V8/V10 luxury vehicles with a lot of electrical ancillaries may require a different jump start cable/plug)120000 mAh also gets your smartphone charged about 7 times and your new tablet charged fully with some left over.
Powerful LED flashlight and emergency strobe light With 86 lumens of lighting power the small yet powerful LED light can help you see at night and is a handy all round torch. You can get up to 120hours of torch only use making it great for camping.For attracting attention the LED light becomes a strobe (flashing) light as well.
LED charge status lights Check the remaining capacity or charging status with the LED status lights.
Portable The PB-CJ12000 weighs less than 400 grams (so you can easily put it in your backpack, case, handbag (if you have a big one) and desk drawer. It also comes with a handy hard case if you want to store it away or take the complete kit (say if you go camping). So how does such a small powerbank get something like a car started?
Without getting too technical it's all about the CCA power and how it's converted into 12v charging current. Older type batteries (like nicad and nical metal hydride) are bigger, heavier and much less efficient. That's why Lithium is used in virtually everything from phones, tablets, GPS, cameras and even the latest electric cars like the Tesla. So using the latest in Lithium battery technology, some smart circuitry and safety cutoffs, you can effectively jump start most cars (or boats/ motorbikes) with this powerbank.
What are the variables in output power?
There are many variables in determining how the Car Starter Powerbank performs. The biggest is the way it's stored (temperature variations reduce the battery holding capacity and reduces it's efficiency). Also, for late model cars with lots of electronics and convenience features - the current drain is quite large so it would be best to turn off ancillaries like air con/radio/lights/heated seats and so on to get the best performance when jump starting your car from the powerbank. Typically a larger car with many convenience features (such as a European luxury car (V6/V8/V10)) may get less than 10 starts due to the amount of current required just to run the ancillaries.
How Power Output is delivered
The three most common values used when discussing electricity are; 1) Voltage or "V" (measured in volts), 2) Resistance or "r" (measured in Ohms) and 3) Current or "I" (measured in Amps) When applying these terms to Consumer Electronics, we most commonly hear about them being applied around products like USB charging devices.
In this application most of us know USB runs on about 5.0 volts. Resistance, well, resistance is very rarely used and of little interest however when compared to current. Current is very important as it describes the strength of the voltage or how fast it flows.
If you consider your garden hose as an analogy - voltage would be the width of the hose, the current would be how fast the water flows through it. Eg. You can fill up a bucket of water faster when you turn the tap on faster.
When talking about wall plug USB chargers, built-in circuitry converts the 240 volts mains power down to 5 volts (for USB) and in varying currents or amps. Car chargers also do the same this, however they convert 12 volts down to 5 volts also with varying strengths. Early chargers only had fairly modest outputs of about 1.0 amp, however modern chargers can now output up to 2.4 amp which effectively can charge a device in almost half the time.
This 5 volt USB power can also be used not only charge your smart phone or tablet, but it can also be used to charge portable power storage devices called power banks. These power banks can also deliver varying amounts of current or amps however it is measured in a slightly different way, called Milliamp Hour or mAH for short. Eg if your smart phone has a 5,000mAh battery, you can get up to two full charges from a power bank that can hold up to 10,000mAh of power. Specification
Power Bank

General

Weight(kg)

1.03

Dimensions(mm)

235 x 55 x 185

Warranty(month)

12

EAN barcode

9335432022650

Other external features

Number of sockets

1 x USB

Watt Rating

4.2 Wh

Simultaneous device charging

N/A

Built-in Safety circuitry

Y

Inbuilt/replaceable fuse

N

Heat resistant body

Y

Aluminium Socket Housing

N/A

Power indicator light

Y

High strength ABS casing

Y

Bonus cables

Y (4 in 1 - Mini and Micro USB, 30pin and 9pin Apple to USB)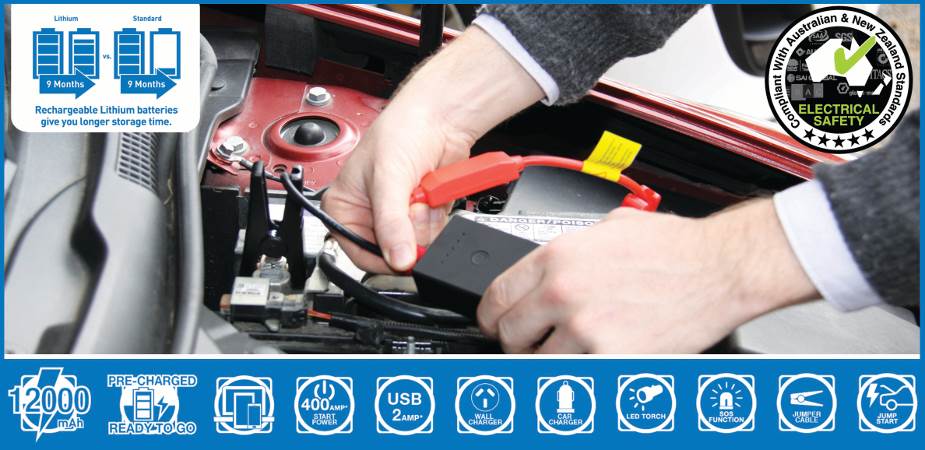 Manufacturer Warranty

12 Months Limited Warranty

Manufacturer Contact Info

http://www.laserco.net/
02 09870 3388