Eaton Pw9130g2000t-xlau Powerware 9130 2000va / 1800w On Line Tower UPS
Delivery
Usually ships within 24 hours*
Paypal/MasterCard/Visa/Amex
SKU#:
PW9130G2000T-XLAU
/
ITEM NO: 581380
/
BRAND: Eaton
Shipping Calculator:
Loading...
The 9130 uninterruptible power system delivers optimal power quality, provides superior power management, resolves utility power protection problems and supplies continuous power conditioning to all connected equipment including IT and networking data center equipment, medical systems, manufacturing process control—or anywhere critical equipment and applications require clean continous power. Protects against downtime, data loss and process interruption.Offers premium performance with a 0.9 power factor and >95 percent efficiency.Increases battery service life and system uptime with ABM battery charging technology.Enables prolonged runtime of essential equipment during power outages by allowing for orderly, remote shutdown of non-critical systems or processes.Provides installation flexibility with a choice of rack or tower designs, both conserving valuable space.Ensures data and system integrity with LanSafe & Netwatch power management software.
Eaton Pw9130g2000t-xlau Powerware 9130 2000va / 1800w On Line Tower Ups
Overview
Double-conversion design for superior power protection - The 9130 is constantly monitoring power conditions & ??regulating both voltage and frequency. Even when presented with the most severe power problems, this UPS's output remains within two percent of nominal voltage. With a wide input voltage range, the 9130 does not depend on batteries to smooth out minor power fluctuations. Batteries are conserved for those times when utility power is highly unstable or completely out. If an outage occurs, the 9130 transfers to battery with zero interruption in power, making this an ideal UPS for sensitive and critical equipment.
Features
Cuts energy usage and costs with up to 95% efficiency in online double conversion mode and 98% in high efficiency mode.

Provides more real power (watts) to protect more equipment and leave room for expanding IT systems with a 0.9 power factor

Simplifies UPS monitoring and management with a bright LCD user interface, free, intuitive power management software and optional eNotify Remote Monitoring service

Increases battery service life and system uptime with ABM battery-charging technology and hot-swappable batteries

Extends battery runtime for critical devices with load segments (except for 6000 VA models)

Maximizes runtimes with optional extended battery modules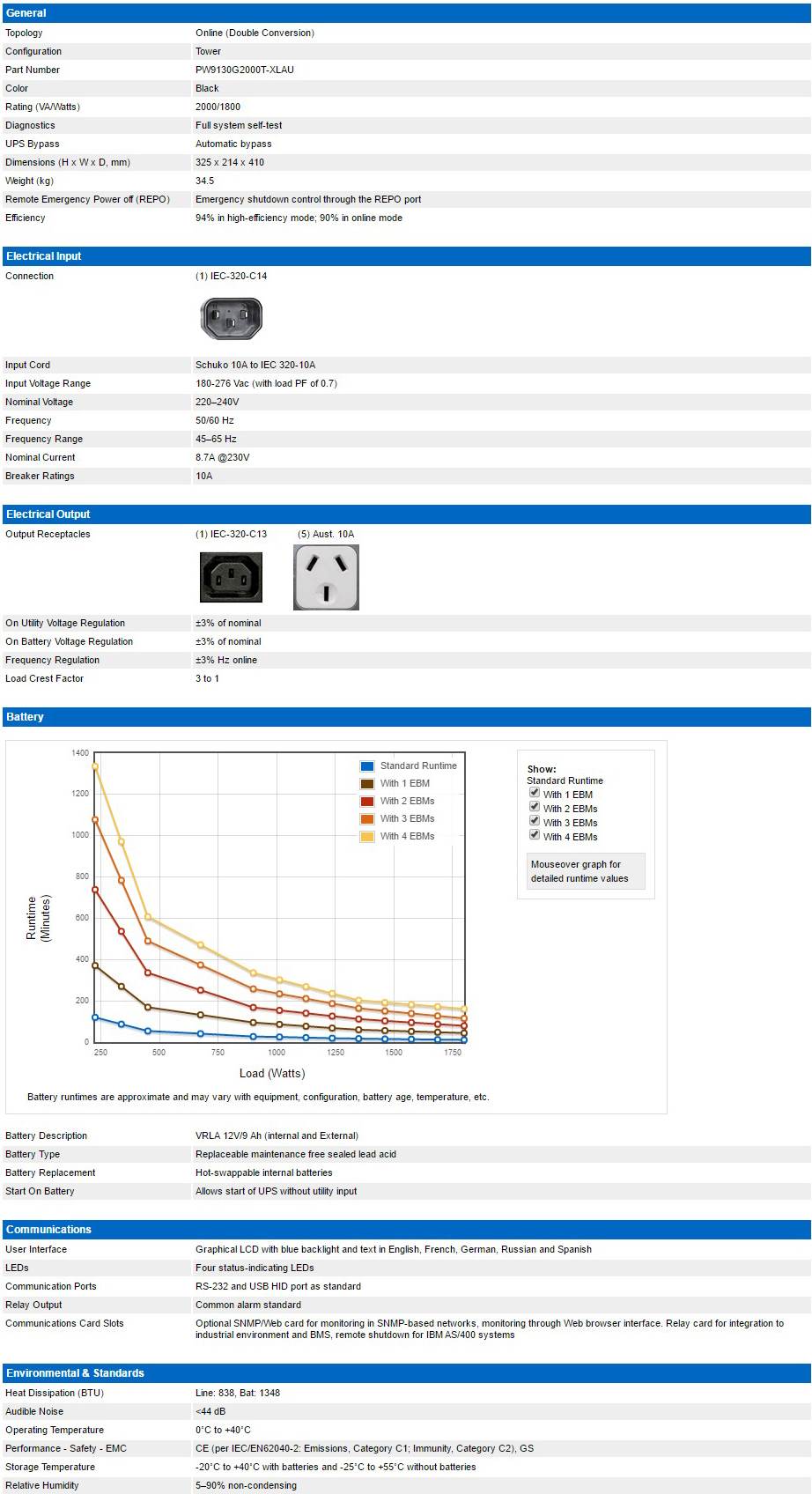 | | |
| --- | --- |
| Brand | Eaton |
| Battery | Lead Acid 9 Ah |
Manufacturer Warranty

2 Years Limited Warranty

Manufacturer Contact Info

http://www.eatoncorp.com.au/Oceania/index.htm