Simplecom CM505 YPbPr RGB Component + Audio R/L to HDMI Converter Full HD 1080p
Delivery
Usually ships within 24 hours*
Paypal/MasterCard/Visa/Amex
SKU#:
CM505
/
ITEM NO: 479345
/
BRAND: simplecom
Shipping Calculator:
Loading...
Picture shown is for illustration purpose only
Please refer to Manufacturer SKU for the exact details

Simplecom CM505 YPbPr RGB Component + Audio R/L to HDMI Converter Full HD 1080p
Description
Simplecom CM505 RGB (YPbPr) Component to HDMI converter allows older analog devices to be integrated seamlessly into the modern home theatre. This adapter connects component video home theatre devices to HDMI compliant digital monitors. It also takes digital audio and encodes it onto the HDMI signal for the full HDMI video and audio effect. With the Component+ Digital Audio to HDMI Adapter legacy home theatre devices can be easily connected any HDMI display for the full digital video and audio experience.
Feature
Input: Component Video (YPbPr) + Stereo Audio(R/L), Output: HDMI

Powered by USB, plug into either USB wall adapter or a nearby USB port on PC or TV

Supports full range of Component Video resolutions: 480i, 480p, 576i, 576p, 720p, 1080i, 1080p

Support 225MHz/2.25Cbpsper channel (6.75Cbps all channel) bandwidth

Support 12bit per channel (36bit all channel) deep color

Support uncompressed 2 channel audio such as LPCM

Supported audio format: 2 channel analog audio, does not support digital audio, will not convert audio only
Specifications
Signal Input: Component (YPbPr) + R/L Stereo

Output Video: HDMI

DTV/HDTV: 480i/576i/480p/576p/720p/1080i/1080p

Video Amplifier Bandwidth: 2.25Gbps/225MHz

Vertical Frequency Range: 50/60Hz

Interlaced Resolutions(50&60Hz): 480i,576i,1080i

Progressive Resolutions(50&60Hz): 430p,576p,720p,1080p

Operating Temperature: 0°C to 70°C

Operating Humidity: 10% to 85% RH

Storage Temperature: -10°C to +80°C

Storage Humidity: 5% to 90% RH

Power Supply: USB

Power consumption(MAX): 5W
Package Contents
1x CM505 YPbPr to HDMI converter

1x HDMI Lead

1x USB Power cable

1x USB Wall Adapter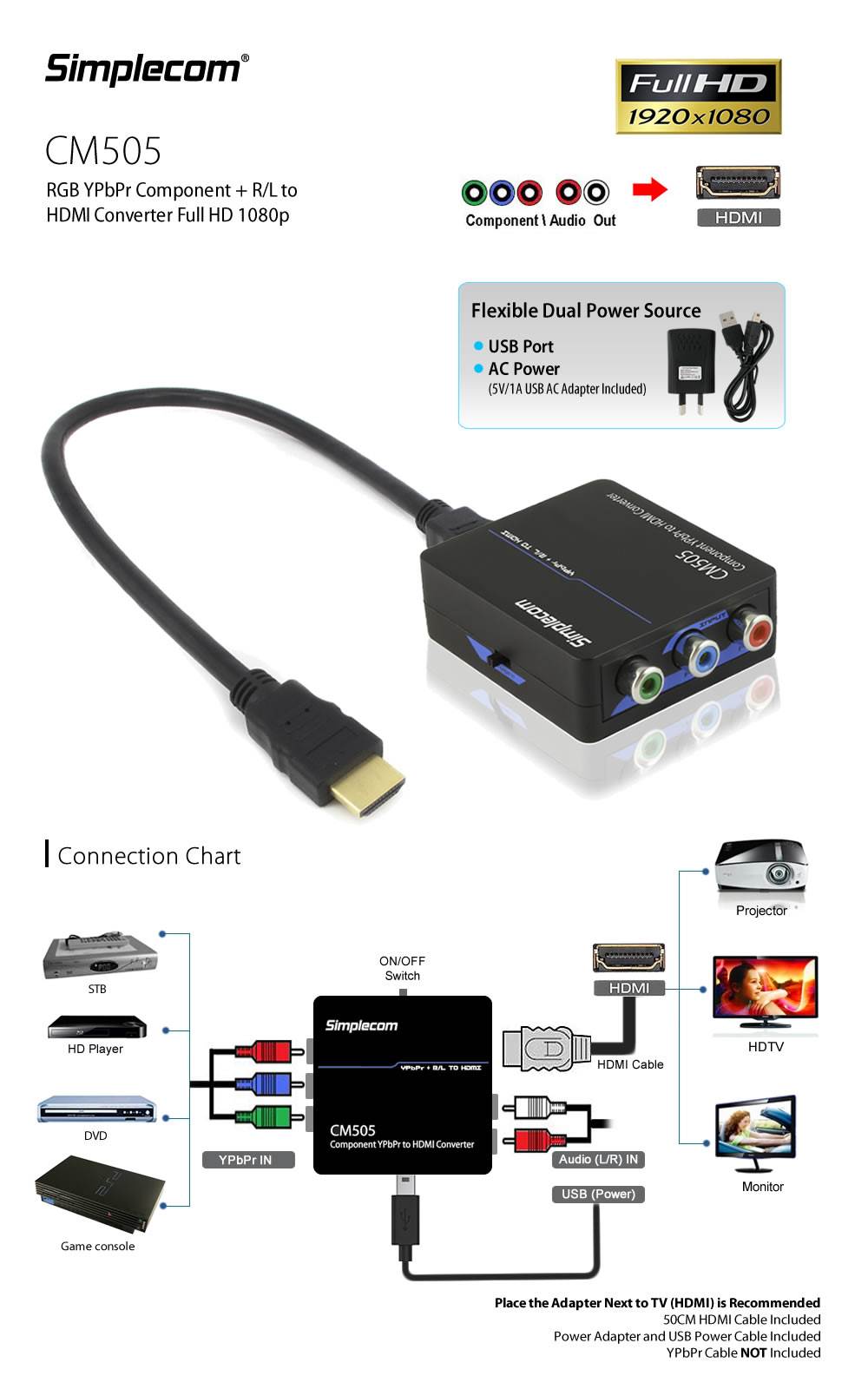 Manufacturer Warranty

12 Months Limited Warranty

Manufacturer Contact Info

http://www.simplecom.com.au/