Startech St7cu35122 7 Port Usb Charging Station (5x1a 2x2a)
Delivery
Usually ships within 24-48 hours
Paypal/MasterCard/Visa/Amex
Retail Price $100
$83
Save $17
SKU#:
ST7CU35122
/
ITEM NO: 569363
/
BRAND: Startech
Shipping Calculator:
Loading...
7 Port Dedicated USB Charging Station (5 x 1A 2 x 2A) - Standalone Multi-Port USB Charger - USB Charge Station - USB Charging Strip
Startech St7cu35122 7 Port Usb Charging Station (5x1a 2x2a)
OVERVIEW This USB charging station lets you set up an external, 7-port dedicated station for charging tablets, smartphones and other mobile devices.
This station is a standalone device that provides 5 x 1A and 2 x 2A USB charging ports, enabling you to charge multiple devices simultaneously. Support for USB Battery Charging Specification 1.2 lets you charge most mobile devices, including the Apple® iPhone®, iPad®, Microsoft® Surface™, Samsung Galaxy Tab™ and more.
The charge station is a perfect solution for charging your mobile devices during meetings in boardrooms, conference rooms, or lobbies. It gives you and your colleagues vital charging access when it's needed most. Plus, consolidating your USB devices onto a single multi-port USB charger offers a more energy-efficient solution and avoids the need for multiple wall outlets or power bars, saving valuable space.
The compact, metal enclosure provides maximum durability and offers an integrated on/off power button for simple operation. For added flexibility, the charge station includes a bracket for wall-mounted installations. TECHNICAL SPECIFICATIONS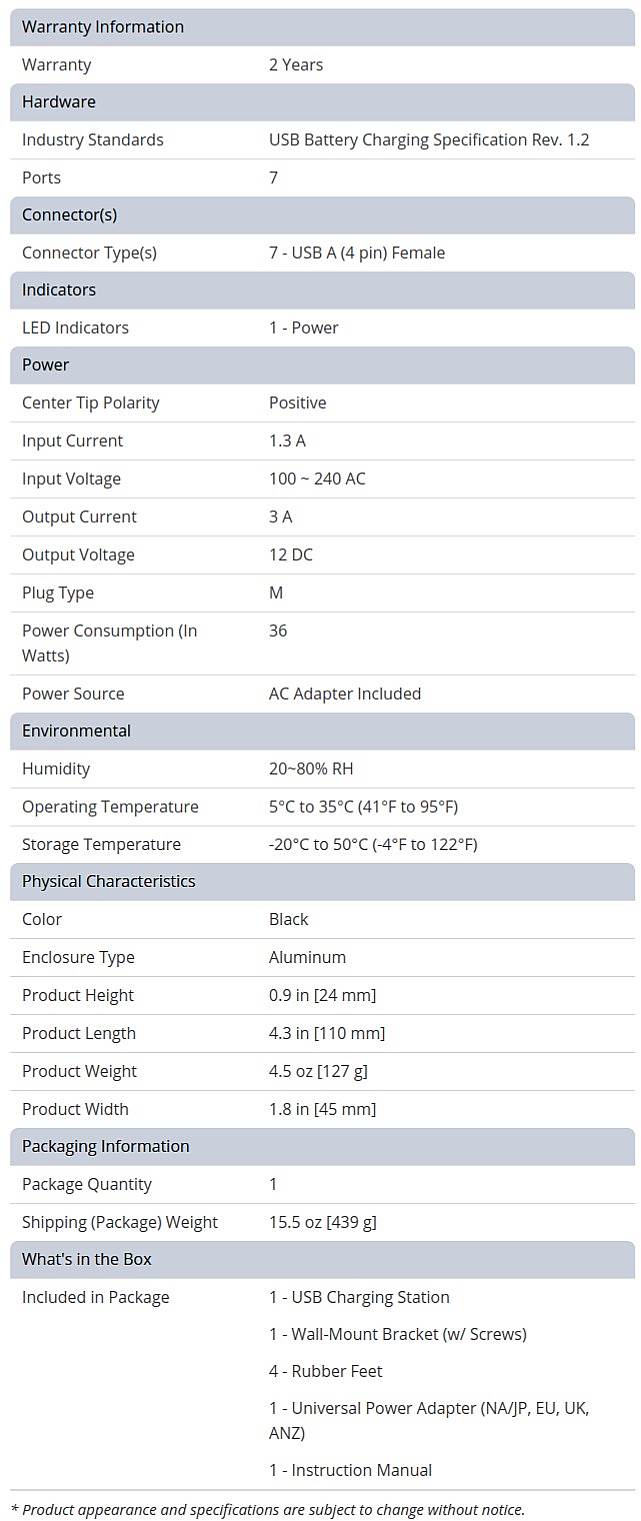 Brand
StarTech
Power Output
Output Current: 3 A
Output Voltage: 12 DC
Dimension
Product Height: 0.9 in [24 mm]
Product Length: 4.3 in [110 mm]
Product Width: 1.8 in [45 mm]
Power Input
Input Current: 1.3 A
Input Voltage: 100 ~ 240 AC
Interface
USB
Ports
7 x USB Ports
Manufacturer Warranty

2 Years Limited Warranty

Manufacturer Contact Info

http://www.StarTech.com.au