Thrustmaster Ferrari 458 Italia Racing Wheel For Pc Xbox360
Delivery
Usually ships within 6 hours
Click & Collect
Usually be ready for collection within 6 hours
Retail Price $200
$158
Save $42
Paypal/MasterCard/Visa/Amex
Overview
http://www.thrustmaster.com/products/ferrari-458-italia
Shipping Calculator:
Loading...

The world's first wheel with official licenses from Ferrari® and Microsoft Xbox 360®.
Pedal set featuring pedals with long range of travel, plus realistic resistance and angle.
Genuine "Manettino®" dial:
o    2-position switch lets users directly change game settings while they race (example: changing views in Forza Motorsport® 4)
o    Automatically returns to neutral position
Super-stable, practical V-shaped clamping system can be attached to any table or desk.
Compatible with XBOX 360® & PC*
Compatibility
The Thrustmaster Ferrari 458 Italia wheel is Xbox/Xbox 360® and PC-compatible. In fact, it's the firstMicrosoft and Ferrari-licensed racing game wheel. The Ferrari 458 Italia is equipped with a handful of conveniently located buttons, including an Xbox Guide button and an Engine Start button, which acts as a D-pad. There's also a Ferrari-style Manettino switch, which will allow you to configure different setting in real time.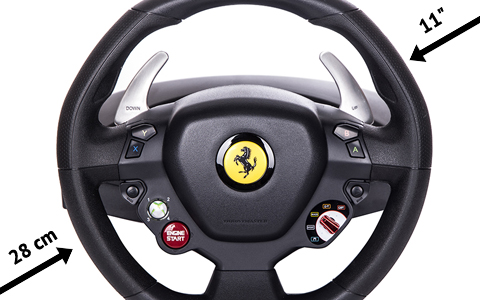 Wheel Size (28 cm/11")
The F458 wheel is a replica of the wheel inside the latestFerrari 458 Italia sports car. The wheel rim is wrapped in rubber and hence won't let you lose your grip.
A 270-Degree Rotation
The Ferrari 458 Italia wheel allows for a 270-degree rotation, i.e. three-fourths of a full turn. That's quite enough for the average gamer's needs.
Shift Paddles
You can change gears via two steering wheel-mounted, sequential metal paddle shifters. Since they rotatetogether with the wheel, you can easily up- and downshift even while cornering.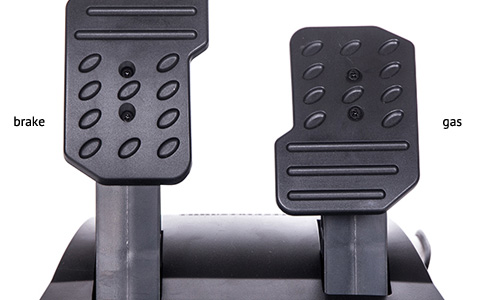 Gas and Brake Pedals
Non-adjustable, all-plastic gas and brake pedals with a long range of travel, offering realistic resistance. The pedal set is connected to the wheel platform via a cable.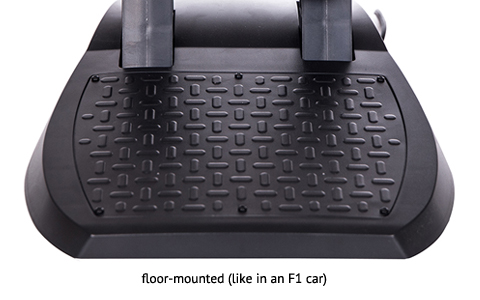 Pedal Assembly
The Ferrari 458 Italia racing game wheel includes a pedal set, which features floor-mounted gas and brake pedals (like in an F1 car).
More Information
Price

$158.00

Description

The world's first wheel with official licenses from Ferrari® and Microsoft Xbox 360®.

Pedal set featuring pedals with long range of travel, plus realistic resistance and angle.

Genuine "Manettino®" dial:

o    2-position switch lets users directly change game settings while they race (example: changing views in Forza Motorsport® 4)
o    Automatically returns to neutral position

Super-stable, practical V-shaped clamping system can be attached to any table or desk.

Compatible with XBOX 360® & PC*

 

Compatibility

The Thrustmaster Ferrari 458 Italia wheel is Xbox/Xbox 360® and PC-compatible. In fact, it's the firstMicrosoft and Ferrari-licensed racing game wheel. The Ferrari 458 Italia is equipped with a handful of conveniently located buttons, including an Xbox Guide button and an Engine Start button, which acts as a D-pad. There's also a Ferrari-style Manettino switch, which will allow you to configure different setting in real time.

Wheel Size (28 cm/11")

The F458 wheel is a replica of the wheel inside the latestFerrari 458 Italia sports car. The wheel rim is wrapped in rubber and hence won't let you lose your grip.

A 270-Degree Rotation

The Ferrari 458 Italia wheel allows for a 270-degree rotation, i.e. three-fourths of a full turn. That's quite enough for the average gamer's needs.

 

Shift Paddles

You can change gears via two steering wheel-mounted, sequential metal paddle shifters. Since they rotatetogether with the wheel, you can easily up- and downshift even while cornering.

Gas and Brake Pedals

Non-adjustable, all-plastic gas and brake pedals with a long range of travel, offering realistic resistance. The pedal set is connected to the wheel platform via a cable.

Pedal Assembly

The Ferrari 458 Italia racing game wheel includes a pedal set, which features floor-mounted gas and brake pedals (like in an F1 car).

Short Description
http://www.thrustmaster.com/products/ferrari-458-italia
Stock Type
In stock
SKU
TM-2960734
ETA
No
UPC
663296417442
Promotion Text
No
mapping_id
6f09487a-c34e-4186-8c02-b2b6d68706ce