Details
Details:
DEADLY PRECISION
3310 SENSOR
Housed in the heart of TM30 the AVAGO-3310 is the perfect chip for optical navigation sensor. It is capable of high-speed motion detection typically at 60ips and acceleration up to 20g. The precision of movements means never miss a hit while situation gets hot at gaming.
SWITCHES
The Omron mechanical switch is excellent for its reliability and has a lifetime of 10 million clicks. It produced subtle click sound at a gentle press of the mouse button and delivering quick and responsive results.
WHEEL
Just as important as switches, the TM30 scroll wheels can turn hundreds of millions of times in its lifespan for going through lengthy websites and documents, as well as for gaming. Whether it is to scope, throw a grenade or zoom in on the battlefield, you need to be highly robust for heavy duty precision scrolling.
UNMATCHED PERFORMANCE
MATERIAL
TM30 features a soft-touch paint on the top part of the mouse that give user a smooth and pleasant rubbery touch while holding the mouse and at the same time it will help avoid slipperiness from the sweat of the palm especially during gaming sessions.
CONNECTOR & CABLE
The gold-plated USB connector ensured that the connector will be corrosion-free and maintain the quality of the data transmission. The braided cable sleeving also nicely hide away the ugly wires and make sure there is no cable entanglement during game play.
TEFLON FEET
The professional Teflon Feet is to ensure a perfect and smooth glide in any surface with precision tracking. It also ensures no scratching on either mouse or surface as it wears downs in long term. An extra set of Teflon feet is included to maximize the value of this mouse.
UNPARERRELED DESIGN
BUTTONS
Buttons are ergonomically designed at a perfect position so that your thumb can comfortably reach these buttons without doing any finger gymnastic. The buttons are placed at the top edge of the mouse so it also means that there will be no clicking by accident during vicious game play.
SHAPE
When we designed this mouse we tested some of the most popular mouse in the market and study the contour and the feel of touch. As a result we have designed this mouse that fits in your hand perfectly and comfortably especially during long hours of work or while during marathon gaming sessions.
LIGHTING EFFECT
The LED light at the inner rear of the mouse create a warm ambient effect and cast subtle light on to the table surface. The color of the LED changes in sync with the DPI and the scroll wheel lights.
ENDLESS CUSTOMIZATION
UI CUSTOMIZATION
A specially designed software is included with this mouse to give you the flexibility to make custom changes to the mouse to suit your need.
The functions are adjusting the speeds of scroll wheel and pointer, re-assign button functions, set macro keys and X/Y DPI values with multiple profiles.
16.8 MILLION COLORS
You can now access 16.8 million colors with the help of the software that come with the mouse. There are some advanced lighting settings to choose from such as breathing light effect or single light color.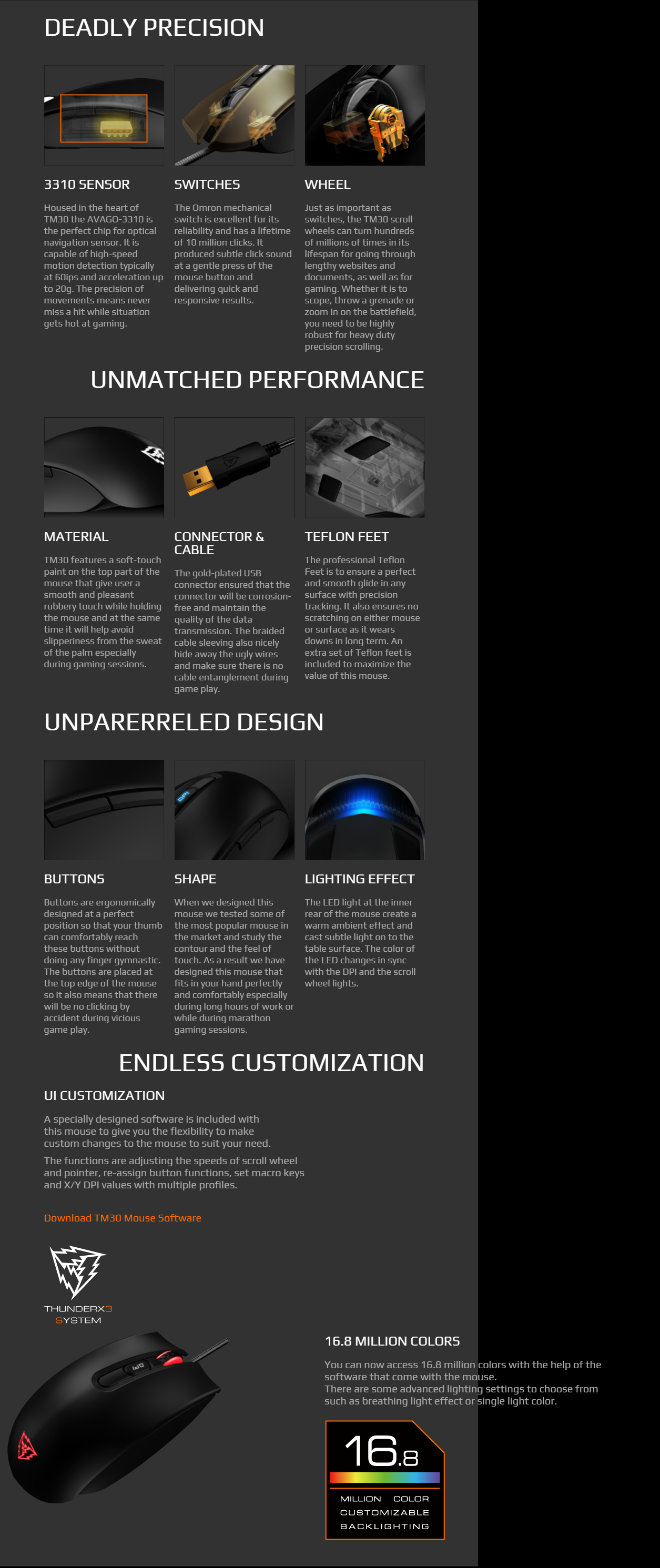 Details
Model Name

TM30

Sensor

AVAGO-3310 Optical Gaming Sensor

Resolution

1500 / 3000 / 6000 / 10000 DPI

Processor

32-bit

Game Type

FPS / MMORPG /MOBA / RTS

Polling Rate

1000Hz / 1ms

On-board Memory

512KB

Material

ABS

Software

Thunder x3 System

Programmable Buttons

6

Switching

OMRON Gaming Switch

Profile LED Backlight

16.8 Million Colors

Frame Rate

6400 FPS

Maximum Tracking Speed

60 IPS

Maximum Acceleration

20G

Interface

Gold-plated USB Plug

Cable Length

1.8m Braided

Dimension

128(L) x 70(W) x 35(H) mm

Weight

145g 

± 

5g
Details
Shipping Calculator
Skycomp Technology uses the best carriers in the business to make sure your order gets to you on time.
Australia Post eParcel
eParcel generally takes 2-10 business days to be delivered depending on final destination.
We recommend you use this service for PO Box or if you believe your delivery address will be unattended as you will be able to collect this from your local Post Office.
Australia eParcel Express
eParcel Express generally takes 1-3 business days to be delivered depending on final destination.
We recommend you use this service for PO Box or if you believe your delivery address will be unattended as you will be able to collect this from your local Post Office.
Other prefered partner
• Local Express:Delivered in 1-2 Business Days
• Nationwide Delivery: 1-4 Business Days*
• Nationwide Express: Next Business Day*
*Allow extra days for regional areas
All orders will be shipped from our Australian (NSW/QLD/VIC/WA) warehouses. More than 95% order are shipped via Australia Post E-Parcel and some from our preferred Partner listed below:
Following are the contact details of the freight companies we use:
IN STORE PICK UP IN SYDNEY
Ph: 02-92800583
Usually 24 hours after placing your order.
Have you considered this?
| | | | | |
| --- | --- | --- | --- | --- |
| | | | | |