Atdec Telehook TH-3060-UT Slim Wall Mount 15 Degree Tilt, Up To 50kg
Delivery
Usually ships within 24-48 hours
Paypal/MasterCard/Visa/Amex
Retail Price $99
$53
Save $46
SKU#:
TH-3060-UT
/
ITEM NO: 582953
/
BRAND: Atdec
Shipping Calculator:
Loading...
General BrandTelehook ColourBlack Compatibility Maximum supported weight, per display (kg) 50 VESA mounting hole pattern Universal Universal Width (mm) From 100 Universal Width (mm) To600 Universal Height (mm) From100 Universal Height (mm) To405 Wall mounting type Masonry , Timber stud Minimum number of studs recommended 2 Range of movement Range of movement Tilt Spring assisted height adjustability- Tilt adjustment 5° upward and 15° downward Pan adjustment 0° Height adjustable - Landscape to portrait screen rotation - Ultra low profile - Minimum distance from wall (mm)58 Maximum arm reach (mm)58 Installation Quick release mechanism - In-built spirit level Yes Portrait screen installation- Security features Can be secured with padlock (not included) Mounting hardware included Yes Other Warranty 10 years MaterialSteel Other features Integrated spirit level for easy installation alignment Packaging dimensions Length, single unit (cm)71.1 Width, single unit (cm)13.7 Height, single box (mm)7.4 Weight, single unit (kg)2.45 Single units per master pack 8
Picture shown is for illustration purpose only
Please refer to Manufacturer SKU for the exact details

Atdec 32'-60'tiilt Wall Mount 15 Degree Tilt, Up To 50kg
The Telehook TH-3060-UT is a tilting wall mount solution for the latest generation of consumer LED/ LCD displays. If you have a 32" or larger flat screen TV under 50kg that you wish to mount with an adjustable viewing angle or added security then this may be the product for you. The black finish provides a nice look while quality construction ensures a lifetime of worry-free operation. Universal mounting hole support ensures a high level of display compatibility. A mounting plate affixes directly to the wall while brackets attach to the display using screws included in the pack. After cabling the display is lifted, slotted and (optionally) locked into place. The wall plate incorporates a spirit level and slotted holes for easy alignment while the brackets allow for horizontal and tilt adjustment post installation. With TELEHOOK products, mounting large LCD and plasma TVs and displays is easy. The TELEHOOK range offers comprehensive solutions for small (from 12") and large (up to 65") displays in the home and commercial environments. The wide range includes wall and ceiling mounts as well as universal solutions for mounting projectors, giving you the flexibility to choose the best way to mount your display. TELEHOOK mounts are easy to install and guarantee that your display will be securely mounted.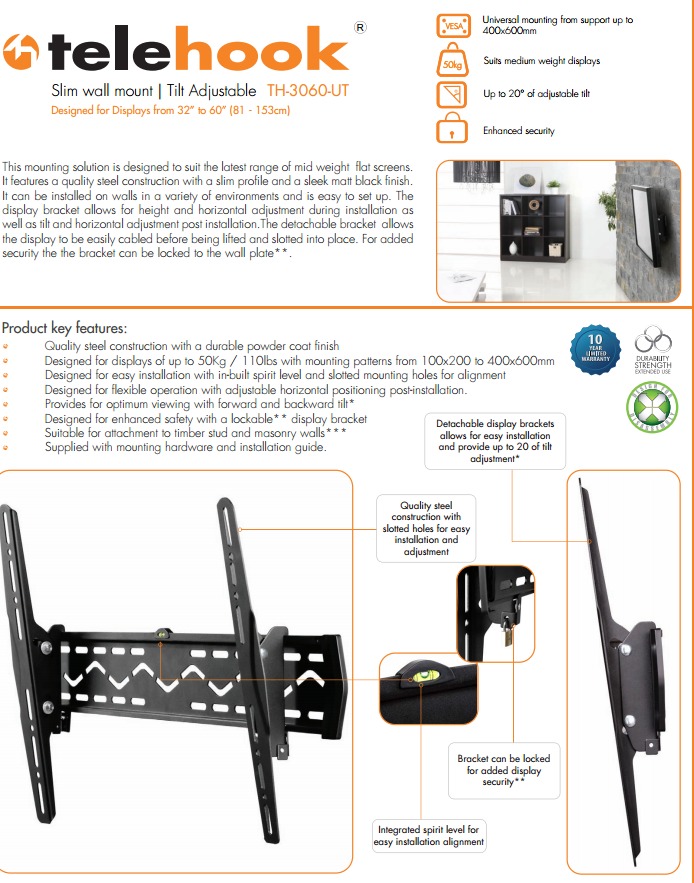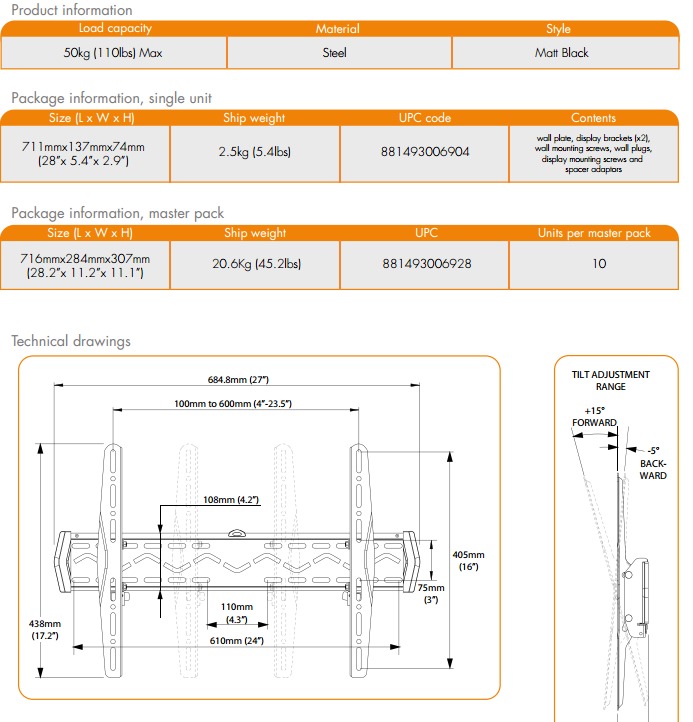 Manufacturer Warranty

10 Years Limited Warranty