CyberPower VALUE1000EI Value SOHO 1000VA / 550W Simulated Sine Wave UPS
Delivery
Usually ships within 24-48 hours
Paypal/MasterCard/Visa/Amex
SKU#:
VALUE1000EI-AU
/
ITEM NO: 668514
/
BRAND: Cyberpower
Shipping Calculator:
Loading...
GENERALUPS Topology: Line-interactiveEnergy Saving Technology: GreenPower UPS™ Bypass TechnologyINPUTNominal Input Voltage (Vac): 230 ± 10%Input Voltage Range (Vac): 170 ~ 290Input Frequency (Hz): 50 ± 5 60 ± 5Input Frequency Detection: Auto-sensingRated Input Current (A): 4.55Input Connector Type: IEC C14Detachable Power Cord Plug Type: AUPower Cord Length (ft.): 6Power Cord Length (m.): 1.8OUTPUTCapacity (VA): 1000Capacity (Watts): 550On Battery Waveform: Simulated Sine WaveOn Battery Voltage(s) (Vac): 230 ± 10%On Battery Frequency (Hz): 50 ± 1% 60 ± 1%Automatic Voltage Regulation (AVR): Single Boost, Single BuckOverload Protection: FuseOutlet(s) – Total: 2Outlet Type: AUx2Outlet(s) - Battery & Surge Protected: 2Typical Transfer Time (ms): 4BATTERYRuntime at Half Load (min): 7Runtime at Full Load (min): 1Typical Recharge Time (Hours): 8Start On Battery: YesUser-replaceable: NoBattery Type: Sealed Lead-acidSURGE PROTECTION & FILTERINGSurge Suppression (Joules): 125EMI/RFI Filtration: YesPhone/Network Protection RJ11/RJ45 (Combo): 1-in, 1-outPHYSICALForm Factor: TowerEnclosure Construction: PlasticColor: BlackPHYSICAL SIZE – UPS MODULEDimensions (WxHxD) (in.): 3.937 x 5.512 x 11.811Dimensions (WxHxD) (mm.): 100 x 140 x 300Weight (lbs.): 12.125Weight (kg.): 5.5
Picture shown is for illustration purpose only
Please refer to Manufacturer SKU for the exact details

Cyberpower Value1000ei-au Value Soho 1000va / 530w (10a) Line Interactive Ups - (value1000ei-au) - 2 Yrs Adv. Replacement, While Stock Last And Replaced By Cp85106.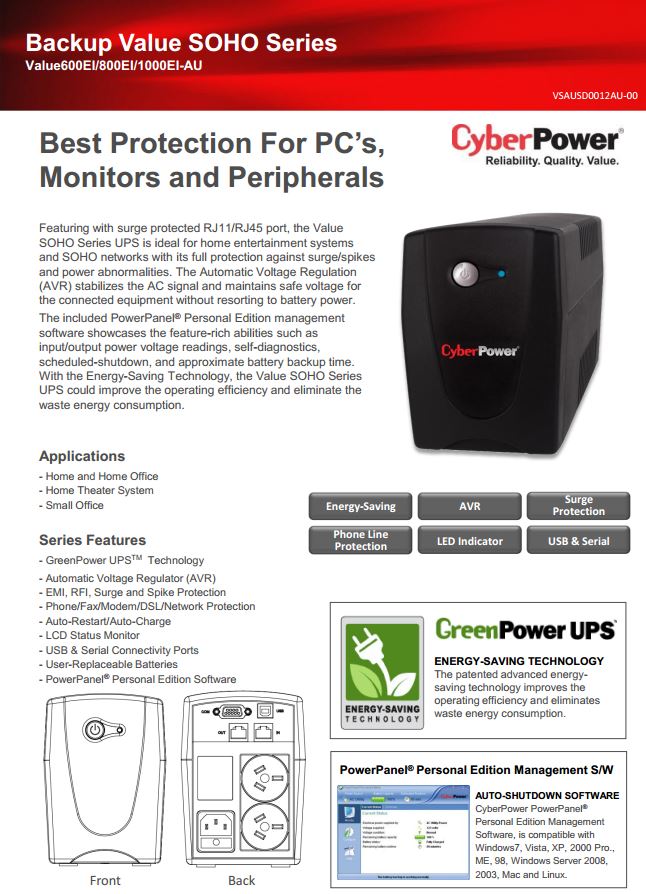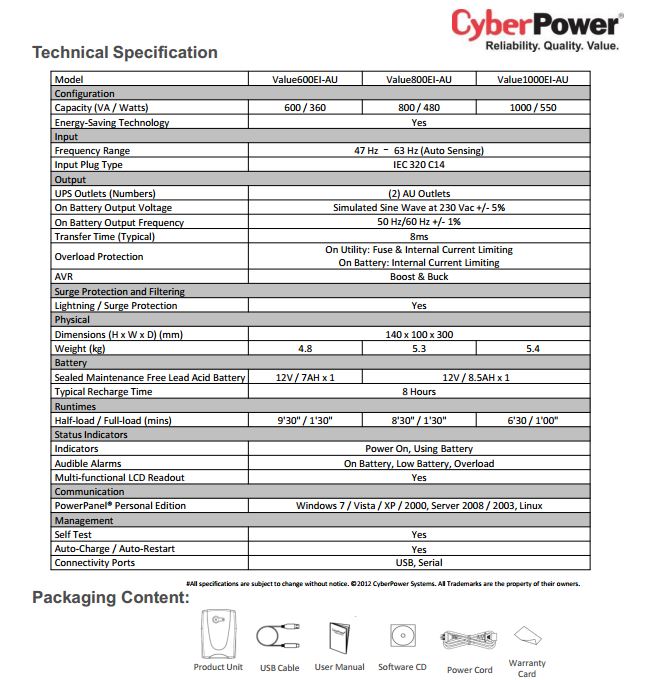 Brand
CyberPower
Management
Auto-Charge/Auto-Restart: Yes
USB Interface: Yes
Manufacturer Warranty

2 Years Advanced Replacement Warranty