Netgear GS316 16 Port Gigabit Ethernet Switch
Delivery
Usually ships within 24 hours*
Paypal/MasterCard/Visa/Amex
SKU#:
GS316-100AUS
/
ITEM NO: 582383
/
BRAND: Netgear
Shipping Calculator:
Loading...
Switch: Netgear 16-Port Gigabit Energy-efficient technology Auto-negotiation
Picture shown is for illustration purpose only
Please refer to Manufacturer SKU for the exact details

Netgear Gs316-100aus Switch: 16-port Gigabit Energy-efficient Technology Auto-negotiation
Description
The NETGEAR SOHO Ethernet Unmanaged Switches provide easy and affordable network connectivity to small offices and home/offices. They are easy to use, reliable, and rugged with metal enclosures. Power-Over-Ethernet (PoE) support is also available for supplying both power and data across a single CAT-5 ethernet cable to devices such as IP security cameras, VOIP phones, wireless access points, etc. With these Plug-N-Play switches, you can quickly and easily expand your network connections to multiple devices, with no configuration required. Available with 5 ports to 24 ports, these switches also support energy saving technologies to help you save power and money.
Choice of Fast Ethernet and Gigabit Ethernet connectivity

Energy-efficient technology for power savings

Auto-MDI/MDIX eliminates the need for crossover cables

Non-blocking switching architecture for maximum throughput at wire speed

Auto-negotiation for automatic connection at the highest common speed between switch and an end device

Power-Over-Ethernet (PoE) option available for powering IP Security Cameras, VOIP phones, wireless access points, and other PD-powered devices

Fanless design for silent operation

Desktop or wall-mountable; GS324 is also rack-mountable (rack-mount kit included)
Specifications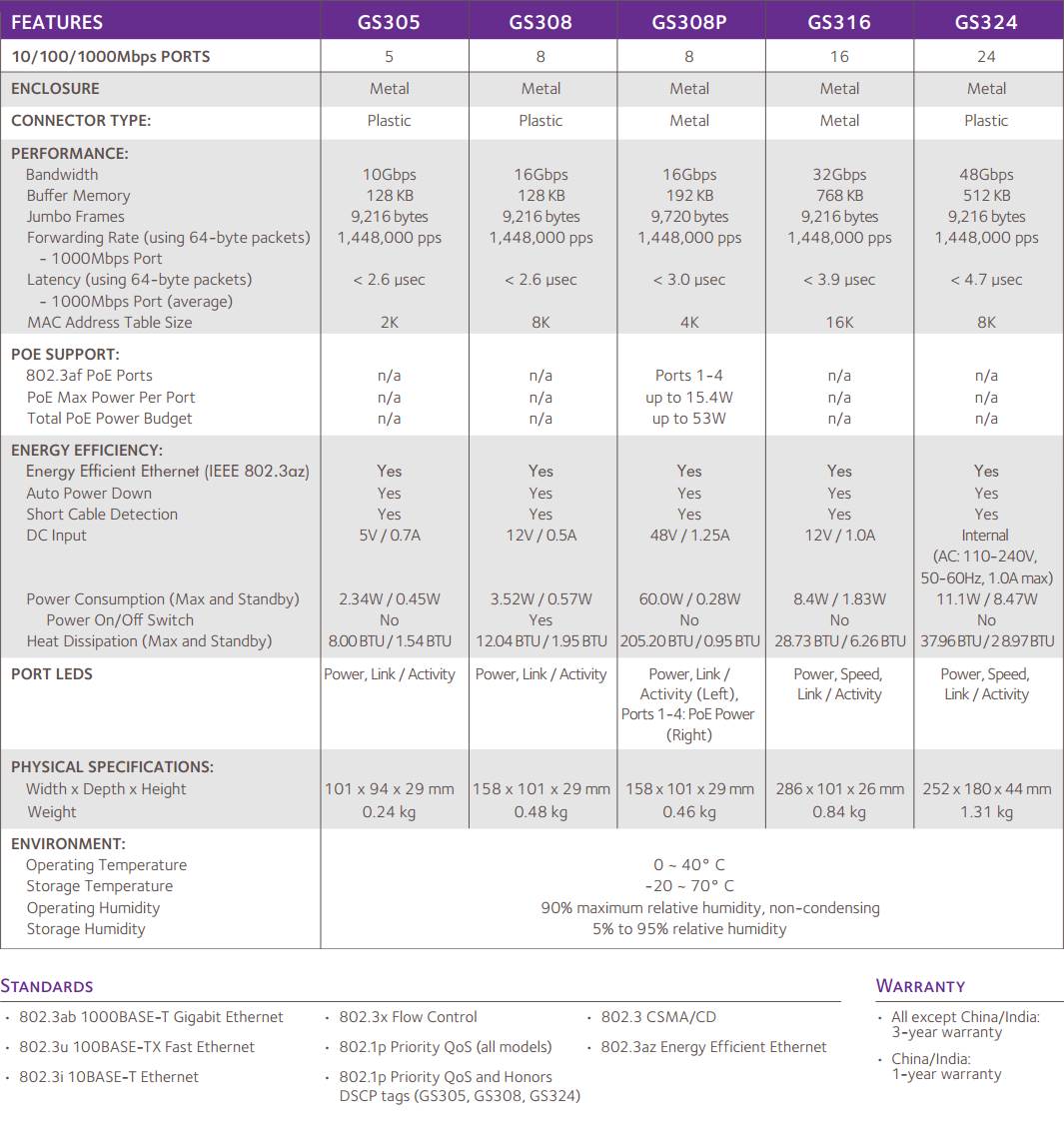 Brand
Netgear
Network Ports
16x RJ45
Dimensions
286 x 101 x 26 mm (11.3 x 4.0 x 1.0 in)
Data Tranfer Rates
Gigabit
Ports Type
RJ45
Product
Netgear GS316 16 Port Gigabit Ethernet Switch
Device Type
Gigabit Ethernet Switch
Features
-Choice of Fast Ethernet and Gigabit Ethernet connectivity
-Energy-efficient technology for power savings
-Auto-MDI/MDIX eliminates the need for crossover cables
-Non-blocking switching architecture for maximum throughput at wire speed
-Auto-negotiation for automatic connection at the highest common speed between switch and an end device
-Power-Over-Ethernet (PoE) option available for powering IP Security Cameras, VOIP phones, wireless access points, and other PD-powered devices
-Fanless design for silent operation
-Desktop or wall-mountable; GS324 is also rack-mountable (rack-mount kit included)
Manufacturer Warranty

3 Years Limited Warranty

Manufacturer Contact Info

http://www.netgear.com.au/
(02) 8117 6800