Netgear WN370 5-ports 11N WIFI WALL MOUNT ACCESS POINT
Paypal/MasterCard/Visa/Amex
SKU#:
WN370-10000S
/
ITEM NO: 338018
/
BRAND: Netgear
Shipping Calculator:
Loading...
http://www.netgear.com/business/products/wireless/business-wireless/WN370.aspx#tab-features
Picture shown is for illustration purpose only
Please refer to Manufacturer SKU for the exact details

Small form factor and inconspicuous appearance
The aesthetically pleasing design of the WN370 allows the access point to blend nicely in the hotel room and school dormitories. WN370 provides wired access directly to the users, where the traditional form factor Access Points are normally installed on the ceiling, away from the access of the users that need wired connectivity. The WN370 is installed with easy attachment to the junction box and appears with a nice decorative appearance.
Fast installation and PoE powered
The WN370 can be installed easily and less than 5 minutes. The WN370 ships with mounting brackets and fits into both US and EU standard electric junction boxes. Only 4 screws are needed to reliably install the WN370 to the wall with low protrusion. The WN370 is powered via Power over Ethernet on the 1 Gbps uplink. Simply connect a Ethernet cable between the WN370 and a PoE enabled switch and the WN370 is up and running. There is no separate power cord needed.
Flexible and easy deployment
WN370 can be installed easily and does not need sophisticated skills of engineers. WN370s are generally deployed in room, especially effective in areas where deploying the access points in traditional locations (such as ceiling mounted or hallways of dormitories and hotels) are not feasible. Because the WN370 is designed to provide coverage in a specific room, where the RF containment is more well defined, no extensive site survey is required. Finally, because the WN370 comes with four Ethernet ports, users can plug in multiple wired devices without the requirement to pull additional cables from the access point to the wiring closet, thereby saving both time and money to meet the requirements of multiple Ethernet ports per room
Centrally managed with complete enterprise features
The WN370 is centrally managed by the WC7600 Wireless Controller. All of the configurations can be centrally configured and stored at the WC7600. Once the WN370 is discovered by the WC7600, it will receive the latest firmware and the updated configuration provided by the WC7600. The WC7600 will automatically and dynamically adjust the RF frequency and the output power of the WN370 to ensure optimal frequency reuse and the best power setting to provide ubiquitous coverage of the intended location. Comprehensive site survey is generally not needed, thereby making the installation and wireless design of WN370 as simple as it gets.
Product Thumbnail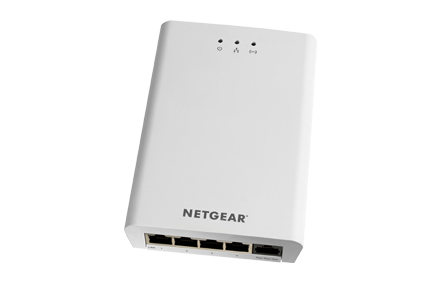 Physical Dimensions
Dimensions (L x W x H): 135.2 x 93.1 x 25.9 mm (5.46 x 3.80 x 1.16 in)
Mounting
Wall mounting to Electric Junction Box
Case
Support US and UN electric junction boxes
Designed to fit in standard US style electrical junction box of NEMA-WD6 and standard EU or china style electrical junction box of BS4662
Interfaces and Indicators
Physical Interfaces
Uplink: 1 x 10/100/1000 Mbps (PoE) + 1 10/100 voice port
Downlink: 4 x 10/100Mbps (data) + 1 10/100 Mbps (voice passthrough)
PoE
802.3af Power over Ethernet (PoE)
Operating Temperature
32° to 113° F (0° to 45° C)
Storage Temperature
-4° to 158° F (-20° to 70° C)
Operating Relative Humidity
MTBF
@ 25° C > 375,000 hours
@ 50° C >125,000 hours
Typical Power Consumption
Standards
IEEE 802.11n 2.0 specification
IEEE 802.11g
IEEE 802.11b
802.11n Transmit x Receive
Maximum Theoretical Throughput
Maximum Transmit Power
21 dBm @ 802.11b (1Mbps)
21 dBm @ 802.11g (6 Mbps)
21 dBm @ 802.11n (MCS0)
Deployment options - controller managed
Web UI
CLI
Support with WC7600
SNMP
SNMP v1, v2 with 802.11 standard and proprietary MIBs
Advances Wireless Features
IEEE 802.1x Radius (EAP TLS, TTLS, PEAP)
Wireless access control to identify authorized wireless devices
MAC ACL
Rogue AP detection
Heat Map
Guest Access and Captivel Portal
Auto Healing
Auto RF adjustments
Auto AP power adjustments
VLAN
802.11 WMM (Wireless Multimedia mode for QoS)
Package Contents
ProSAFE Wireless-N Access Point
Wall-mount kit
Installation guide
Warranty/support information card
Countries Certification (minimum set)
FCC, IC, CE, EN55022/24, EN301489, EN301489-17, EN30328, EN60950,
C-Tick, A-Tick, SRRC
Optional Support
PMB0351: 5 years OnCall 24x7
PMB0331: 3 years OnCall 24x7
PMB0311: 1 year OnCall 24x7
Product Ordering Information