Powershield Commander 1100va Line Interactive Ups - 990w
Delivery
Usually ships within 24-48 hours
Paypal/MasterCard/Visa/Amex
Retail Price $1,194
$807
Save $387
SKU#:
PSCM1100
/
ITEM NO: 594415
/
BRAND: Powershield
Shipping Calculator:
Loading...
The PowerShield Commander is a sophisticated pure sine wave, line interactive UPS. Besides providing Automatic Voltage Regulation (AVR) it also provides for a Pure Sine Wave output while in backup mode.
 This UPS is a cost effective solution for protecting applications such as networking, telecom, security and motors to name a few.
Picture shown is for illustration purpose only
Please refer to Manufacturer SKU for the exact details

Power Shield Commander Tower 1.1KVA UPS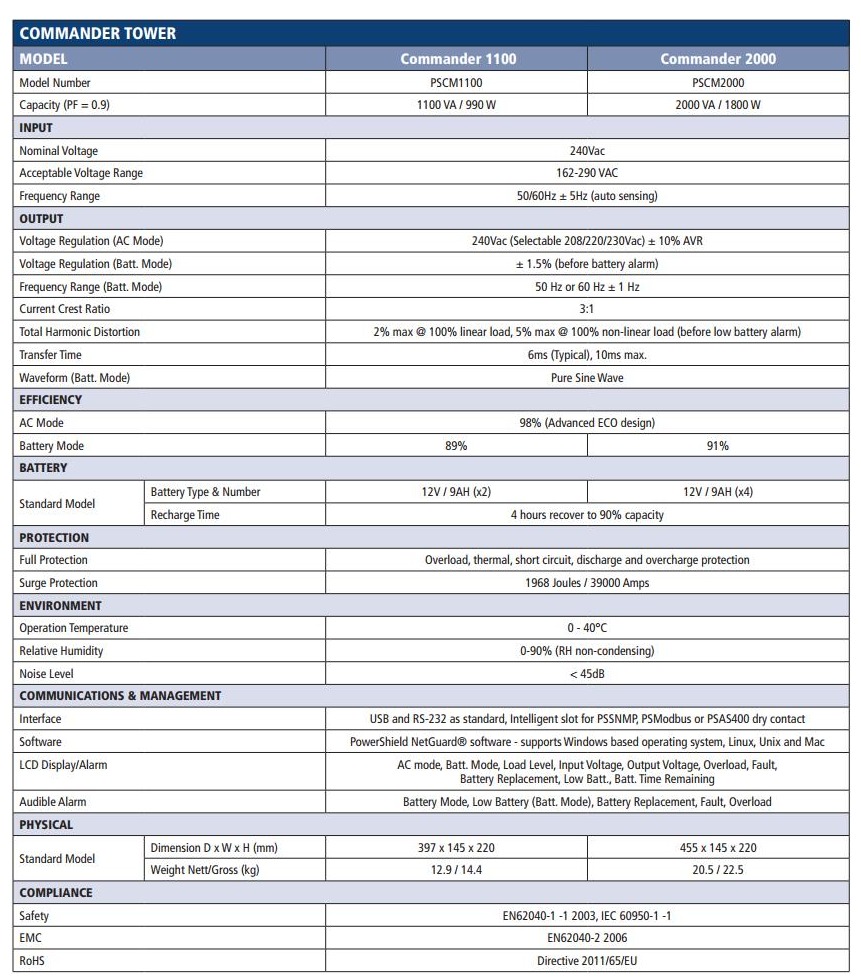 PowerShield COMMANDERCommander The PowerShield Commander provides temporary backup power supply, telephone and modem surge protection with a pure sine wave. Use PowerShield Commander to protect: •Servers •Gates •Copy Machines •Laser Printers •Applications that require remote connectivity Features: •Works for gates, camera surveillance, computers, telephone systems, servers, and other sensitive electronic equipment. •Best specifications in its class •Intelligent real time battery backup display •Smart 5% AVR with 2 step buck and boost •Intelligent double stage charger control which translates to a faster recharge rate •Generator compatible •Highest Joule Rating – 1558 Joules of surge protection