Simplecom EL808 LED Dimmable Touch Control Multifunction LED Desk Lamp 4W with Digital Clock
Delivery
Usually ships within 24 hours*
Paypal/MasterCard/Visa/Amex
SKU#:
EL808
/
ITEM NO: 500617
/
BRAND: simplecom
Shipping Calculator:
Loading...
Picture shown is for illustration purpose only
Please refer to Manufacturer SKU for the exact details

Simplecom EL808 LED Dimmable Touch Control Multifunction LED Desk Lamp 4W with Digital Clock
Description
Simplecom EL808 is a multifunction LED desk lamp with LCD thermometer, alarm clock and calendar. Designed for added convenience, it will remind you the time while you enjoy your working, study or reading, no miss for any date. Touch-Sensitive panel controls over power, lightness and color temperature, all done button-free on the touch-sensitive panel.
EL808 with 5 Levels Brightness and 3 Lighting Modes: cold, natural and warm modes, cover work, reading, relax and other scenes you need in a whole day, ideal for the office, study, bedroom, and more. High quality and easy to use LED table lamp which is capable of providing a unique and modern day touch with it sleek design.
Features
Eye-protection LED Lamp Multiple lighting and brightness modes, non-flickering light, which enables reading or writing longer with less eye fatigue
3 Lighting Modes Whether working, reading, or taking a break, easily adjust to the right lighting with 3 specific modes (cold / natural / warm)
5 Brightness Levels 5 brightness levels applying to all 3 lighting modes enable you to create a special ambiance you love
Multifunction LCD Display Multifunction LCD display for digital calendar, clock and thermometer
Touch-Sensitive Control Operations including power On / Off, mode switch and brightness Up / Down, are all done button-free on the touch-sensitive panel
Power for Less Compared to traditional incandescent lamps, the LED brings the same level of brightness but consumes 75% less power
Variety of Angles Foldable LED panel creates a wide range of angles (0° to 180°)
Specifications
Input: DC/5V/1A

Maximum Current: 5V 800mA

Cold Light: 5500-6000K

Natural Light: 4000-4500K

Warm Light: 2800-3300K

LCD Display: Calendar, Clock, Thermometer

Clock Battery: 1x CR2032 button cell (Preinstalled)

Power Consumption: 4W

Intensity of illumination: 800lux

LED Lifetime: 35,000 Hours

Product Weight: 690g

Dimension: L145 x W145 x H330mm
Package Contents
1x EL808 LED Desk Lamp

1x USB Power Cable

1x USB Power Adaptor

1x User Manual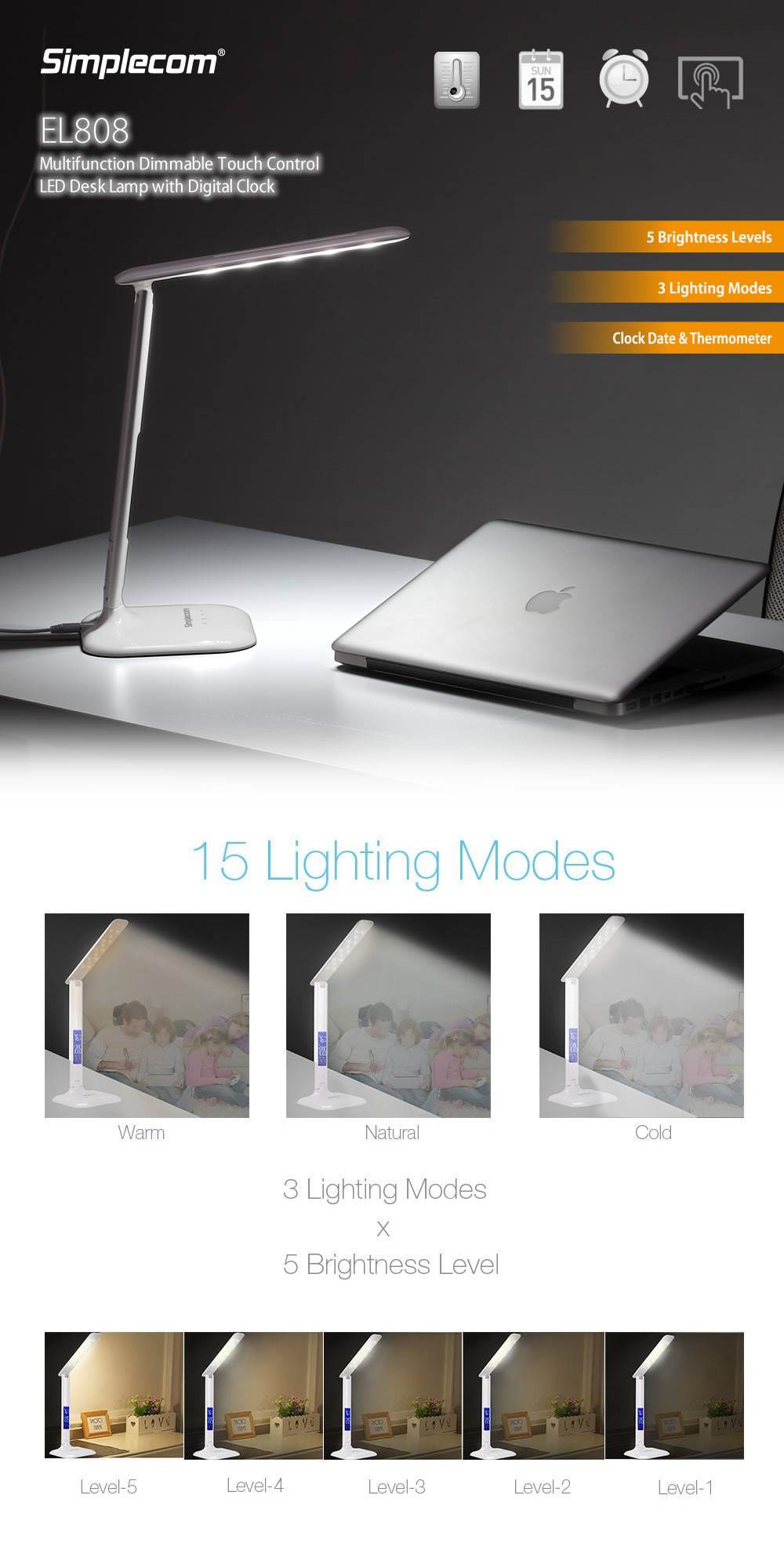 Brand
Simplecom
Colour temperatures available
Cold Light: 5500-6000K
Natural Light: 4000-4500K
Warm Light: 2800-3300K
Lighting source
LED
Features
Multiple lighting and brightness modes, non-flickering light, which enables reading or writing longer with less eye fatigue
Whether working, reading, or taking a break, easily adjust to the right lighting with 3 specific modes (cold / natural / warm)
5 brightness levels applying to all 3 lighting modes enable you to create a special ambiance you love
Multifunction LCD display for digital calendar, clock and thermometer
Operations including power On / Off, mode switch and brightness Up / Down, are all done button-free on the touch-sensitive panel
Compared to traditional incandescent lamps, the LED brings the same level of brightness but consumes 75% less power
Foldable LED panel creates a wide range of angles (0° to 180°)
Luminance
Intensity of illumination: 800lux
Dimensions
L145 x W145 x H330mm
Input Voltage(AC/DC)
DC/5V/1A
Manufacturer Warranty

12 Months Limited Warranty

Manufacturer Contact Info

http://www.simplecom.com.au/