Simplecom SD322 Dual Bay USB 3.0 Aluminium Docking Station for 2.5"" and 3.5"" SATA HDD Silver
Delivery
Usually ships within 24 hours*
Paypal/MasterCard/Visa/Amex
SKU#:
SD322-SL
/
ITEM NO: 463286
/
BRAND: simplecom
Shipping Calculator:
Loading...
Picture shown is for illustration purpose only
Please refer to Manufacturer SKU for the exact details

Customer Also Bought
Simplecom SD322 Dual Bay USB 3.0 Aluminium Docking Station for 2.5"" and 3.5"" SATA HDD Silver
Note: Hard Drives in picture not included
A solid 2-bay USB 3.0 Docking Station with offline Clone Function
Simplecom SD322 SATA Docking Station supports the direct insertion of two 2.5" or 3.5" SATA Hard Drives. It provides a simple, fast, and cost effective solution for data recovery, drive imaging, and testing centers, or any environment that requires fast access to uninstalled/archived drives. Plus, now you can take advantage of the super speed USB 3.0 to quickly transfer files up to 5 Gbps. Connect any 2.5"/3.5" Serial ATA (SATA) or SATA II Hard Drive to your computer through an available USB 3.0 port on your desktop or laptop.
With completely offline cloning technology, Simplecom SD322 can copy your files from one disk to another without computer support. Ready for Plug and Play/Hot Swap and no Additional Driver is needed.
Features
Designed for direct insertion of two 2.5 inch or 3.5 inch SATA HDD/SSD

USB 3.0 SuperSpeed Interface, transfer rates up to 5Gbps

Backwards-Compatible with USB 2.0, transfer rates up to 480Mbps

Solid aluminium casing with glossy ABS top panel, elegant and stylish

LED light indicates Power and Activity status

Hot-swappable, plug and play, no drivers needed

Support offline clone, easy installation, computer-independent duplicating/cloning without computer support, high efficiency

Reliable and high watts DC power supply (12V, 4A), so that a stable energy supply is guaranteed for 2x 10TB hard drivers

Compatible Operating Systems: Windows XP and above (32/64-bit), Mac OS 10.10 and Above, Linux
Important Note
Please check the actual capacity of HDD 2 (Target Disk) is higher than HDD 1 (Source Disk)

When cloning a hard disk, no PC is required. You just plug both hard drives, press "Clone" button about 3 seconds until the LED will light up -- then quickly press "Clone" button, the cloning will begin. Progress indicator with LED: 25% - 50% - 75% - 100%.
Package Contents
1x SD322 USB 3.0 Dual Bay SATA Docking Station

1x USB 3.0 Cable

1x 12V/4A Power Adapter

1x User Manual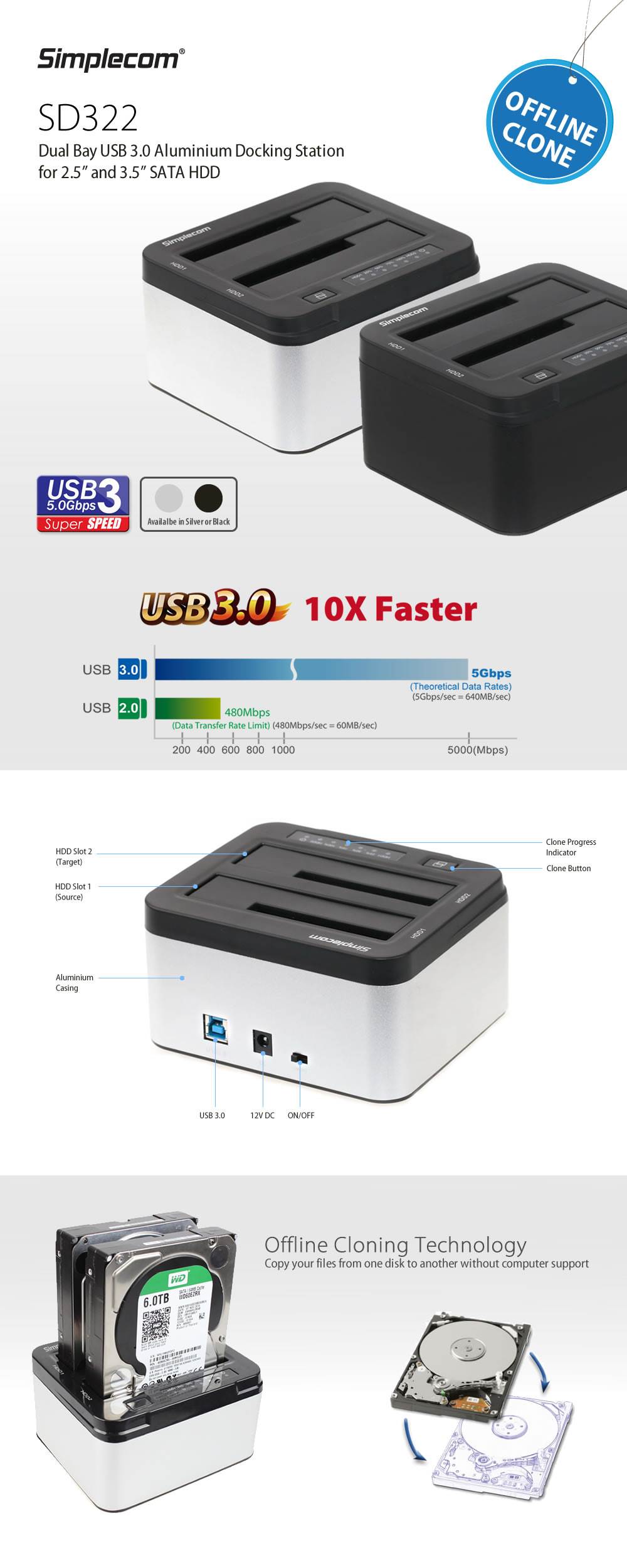 Manufacturer Warranty

1 Year Manufacturer Warranty

Manufacturer Contact Info

http://www.simplecom.com.au/