Startech Usblt2mw 2m White 8-pin Lightning To Usb Cable
Delivery
Usually ships within 24 hours*
Paypal/MasterCard/Visa/Amex
Retail Price $40
$38
Save $2
SKU#:
USBLT2MW
/
ITEM NO: 569188
/
BRAND: Startech
Shipping Calculator:
Loading...
2m (6ft) Long White Apple 8-pin Lightning Connector to USB Cable for iPhone / iPod / iPad - Charge and Sync Cable - 2 meter White Lightning toUSB Cable
Picture shown is for illustration purpose only
Please refer to Manufacturer SKU for the exact details

Startech Usblt2mw 2m White 8-pin Lightning To Usb Cable
OVERVIEW
The USBLT2MW 2m White Lightning to USB Cable for iPhone, iPod, and iPad provides a reliable solution for charging and syncing your newer generation Apple mobile devices with your PC or Mac computer, through an available USB port.

This longer Lightning USB cable offers 2-meters in cable length to overcome distance restrictions while still providing full charging power. Plus, the reversible 8-pin Lightning connector can be plugged into your iOS-enabled device with either side facing up, meaning there is no wrong way of inserting the cable into the device.

This durable cable is Apple MFi certified and backed by StarTech.com's 2-year Warranty to ensure dependable performance.

Note: If your computer USB port does not deliver sufficient power and you see a "Not Charging" message on your iPad or other Apple device, you can use this 2m Lightning to USB Cable with the USB 2.0 Fast Charging Adapter (USB2CHADP) in order to fast charge your devices.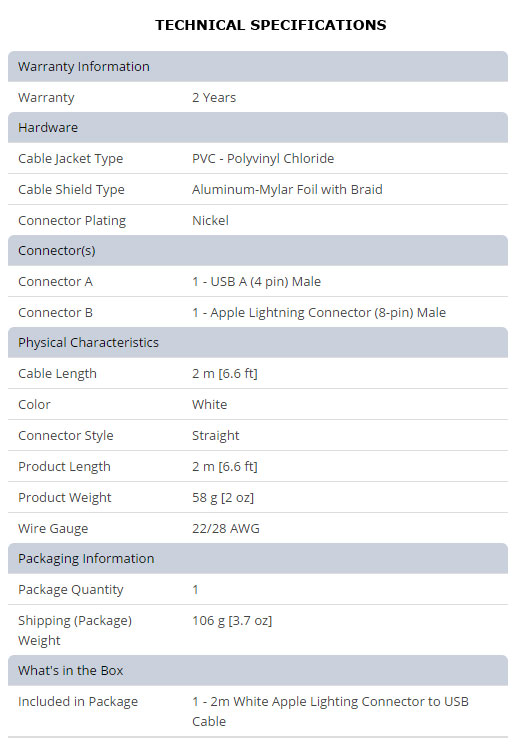 Manufacturer Warranty

1 Year Return to Base Warranty

Manufacturer Contact Info

http://www.StarTech.com.au