Thrustmaster Ferrari 458 Challenge Wheel Add-On
Delivery
In stock at partnered supplier
Paypal/MasterCard/Visa/Amex
Retail Price $250
$209
Save $41
SKU#:
TM-4060047
/
ITEM NO: 700608
/
BRAND: Thrustmaster
Shipping Calculator:
Loading...
Manufacturer: Thrustmaster. Founded in 1992, Thrustmaster has been proud to bring all of its know how and technological expertise to the video game accessories market. For nearly twenty years, Thrustmaster has developed solutions to satisfy and entertain every type of gamer, by creating products for highly precise gaming experiences such as racing wheels and joysticks, along with fun accessories for gaming consoles. Reflecting their core values of Passion, Innovation and Quality, Thrustmasters goal is to allow users to enjoy a genuinely exceptional experience with its products and to make their gaming dreams a reality.
Details:
* Manufacturers name: Ferrari 458 Challenge Wheel Add-On.
* Compatibility: PC, Playstation3 & Xbox One.
Highlights:
* Manufactured under official Ferrari license.
* Suits T500 RS, Ferrari F1 Wheel Integral & TX Racing Wheel bases.
* Two large sequential paddle shifters.
* Three position Manettino dial.
* Six easy access action buttons.
* One multidirectional Dpad.
Would you like to know more? Check out the
full product information
page.
Picture shown is for illustration purpose only
Please refer to Manufacturer SKU for the exact details

Thrustmaster Tm-4060047 Ferrari 458 Challenge Wheel Add-on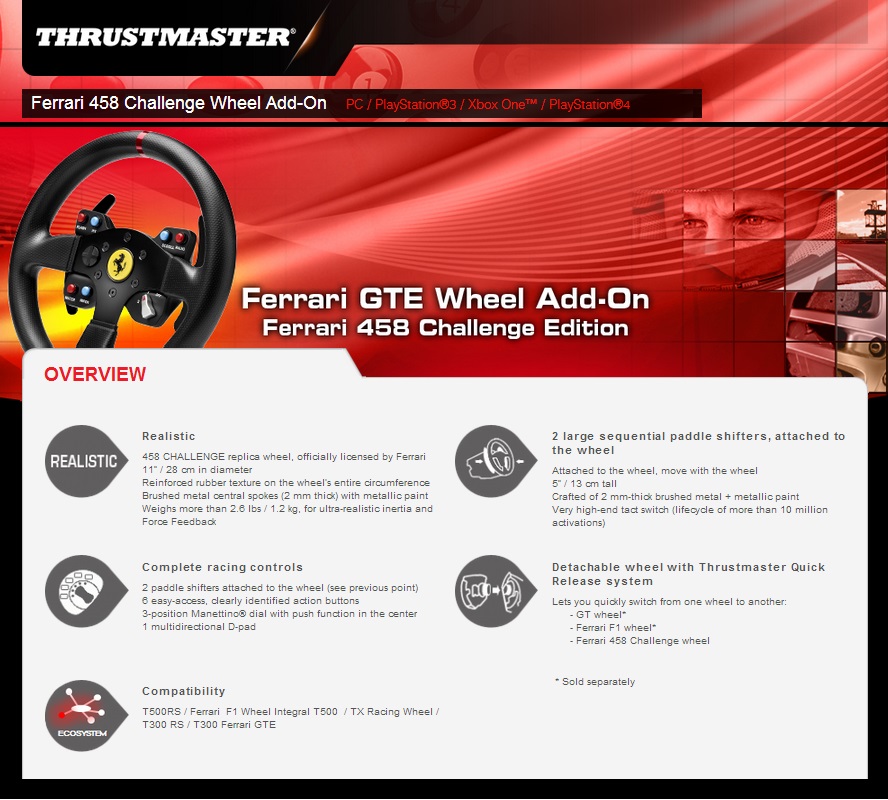 Manufacturer Warranty

1 Year Manufacturer Warranty