TP-Link TL-MR3420 300Mbps Wireless N 3G Router detachable 2T2R
Delivery
Usually ships within 24 hours*
Paypal/MasterCard/Visa/Amex
SKU#:
TL-MR3420
/
ITEM NO: 361861
/
BRAND: TP-Link
Shipping Calculator:
Loading...
Picture shown is for illustration purpose only
Please refer to Manufacturer SKU for the exact details

TP-Link TL-MR3420 300Mbps Wireless N 3G Router detachable 2T2R
Please note: This item does not include a modem.
Highlights:
Compatible with LTE/HSUPA/HSDPA/UMTS/EVDO USB modems, tested in the field

3G/4G and WAN connection Backup guarantees an "Always-online" Internet connection

Local wireless HD video sharing, with speeds up to 300Mbps

Easy one-touch wireless security encryption with the Quick Security Setup button

Bandwidth control allows administrators to determine how much bandwidth is allotted to each PC

Supports Telstra 4G (320U & MF823) and Optus 4G (E3276) USB dongles
* 4G LTE Modems Compatibility apply to TL-MR3420 Version 2.0 ONLY.
Overview:
What This Product Does Share the freedom of 3G/4G! The TL-MR3420 3G/4G Wireless N Router allows users to share a 3G/4G mobile broadband connection with family and friends via wired or wireless connections. By connecting a 3G/4G USB modem to the routers, a Wi-Fi hotspot is instantly established, via which multiple devices can access the Internet and share data and applications wirelessly.
Enjoy 3G/4G Wireless Sharing TL-MR3420 features blazing 4G speeds and backward compatible with 3G modems, allowing users to share a 3G/4G mobile broadband with family and friends via wired or wireless connection.
Tests in the Field-High Compatibility Compatibility is the most important aspect to consider when you're selecting a 3G/4G router. To ensure the best compatibility between our routers and the modem you would use with the router, TP-LINK has made certain that our 3G/4G Routers are compatible with the ISPs in the regions in which they are sold. We have teams around the globe continually testing our Routers with newly emerged modems to ensure that end users can feel confident that their routers will operate flawlessly where they live and work.
Comprehensive 3G/4G and WAN Connection Backup Strategy The TL-MR3420 stands out with its 3G/ 4G and WAN connection back-up, which keeps users online when one connection fails. TP-LINK's 3G/4G Router provides users with both 3G/4G Preferred and WAN Preferred back-up modes, while other brands provide one or the other. This brings users a high degree of flexibility when users are setting up the networks with considering connection costs and length of downtime.
Wireless N Speed & Range Complying with the IEEE 802.11n standard, the TL-MR3420 can establish a wireless network with transmission speeds of up to 300Mbps, while mitigating data loss over long distances and through obstacles in a small office or a large apartment, even in a steel-and-concrete building. Above all, users can easily pick up their wireless network's signal at longer distances from the router, where with legacy 11g products they would have to be much closer.
WPA / WPA2 Encryptions -Advanced Security In order to safeguard user's Wi-Fi networks, WEP encryption is no longer strong enough. The TL-MR3420 provides WPA/WPA2 encryptions (Both Personal and Enterprise),created by the WI-FI Alliance, promoting interpretabilities and security for WLAN, to protect against almost any threat that the Internet or intruders may harbor.
*All above information apply to TL-MR3420 version 2.0 ONLY.
Features:
Blazing 4G speeds and backward compatible with 3G modems

3G/4G and WAN failover guarantees an 'always-online' Internet connection

Wireless N speed up to 300Mbps for a robust Wi-Fi network

Supports PPPoE, Dynamic IP, Static IP, PPTP, L2TP Cable Internet Access

Supports 64/128-bit WEP, WPA/WPA2 and WPA-PSK/WPA2-PSK encryption

Wireless security encryption easily at the push of the WPS button

WDS wireless bridge provides seamless bridging to expand your wireless network

IP based bandwidth control allows administrators to determine how much bandwidth is allotted to each PC

Parental Control allows parents or administrators to establish restricted access policies for children or staff
Specifications: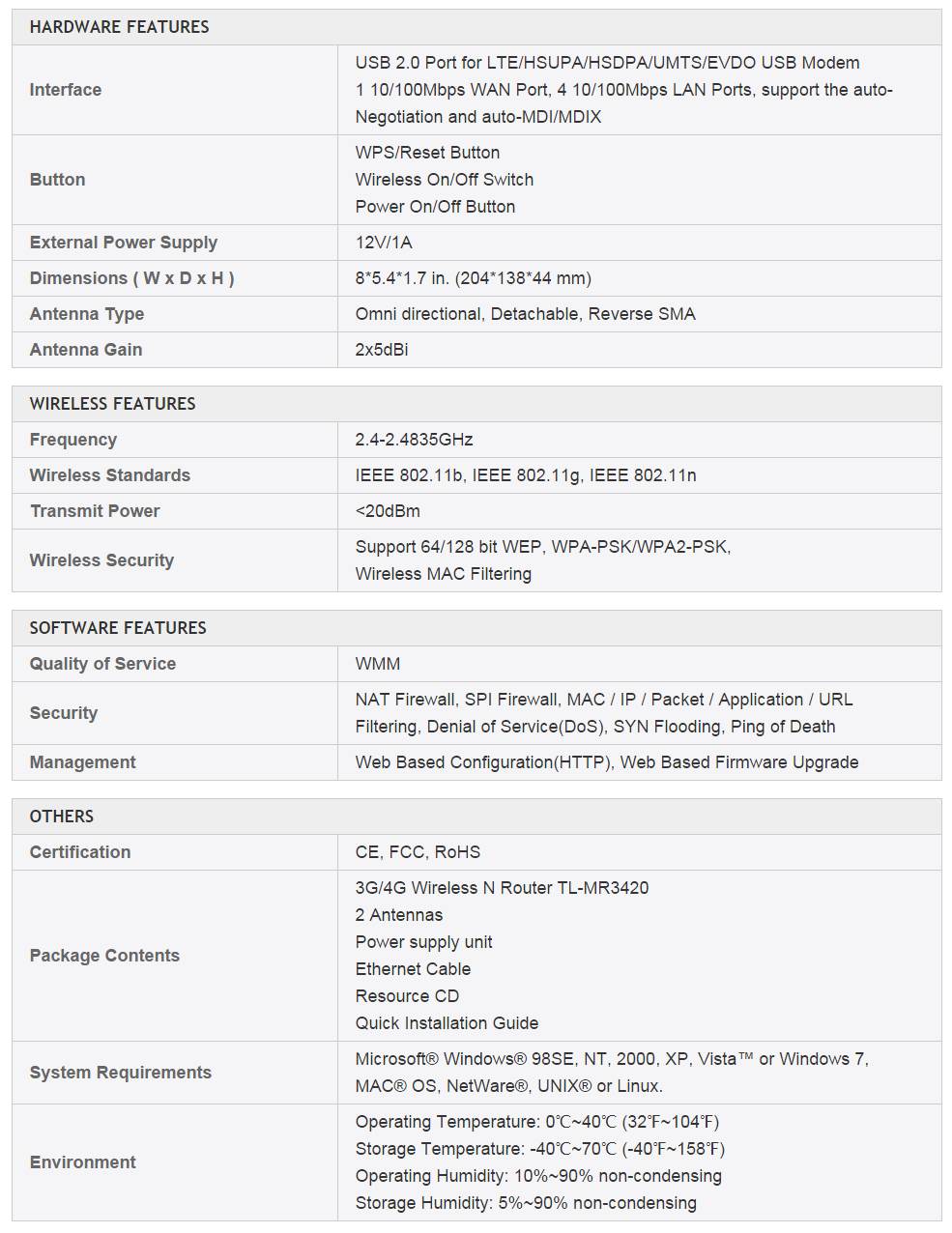 | | |
| --- | --- |
| Brand | TP-Link |
| Security | NAT Firewall, SPI Firewall, MAC / IP / Packet / Application / URL Filtering, Denial of Service(DoS), SYN Flooding, Ping of Death |
Manufacturer Warranty

3 Years Limited Warranty

Manufacturer Contact Info

http://www.tp-link.com.au
1300 875 465