StarTech 7.6m High Speed HDMI Cable - M/M
Delivery
Usually ships within 24-48 hours
Paypal/MasterCard/Visa/Amex
Retail Price $58
$50
Save $8
SKU#:
HDMM25
/
ITEM NO: 569929
/
BRAND: Startech
Shipping Calculator:
Loading...
25 FT HIGH SPEED HDMI CABLE - ULTRA HD 4K X 2K HDMI CABLE - HDMI TO HDMI M/M
Startech Hdmm25 25ft High Speed Hdmi Cable - Hdmi - M/m
OVERVIEW The HDMM25 High Speed HDMI® cable (25 ft) features 2 gold-plated HDMI (male) connectors and durable high quality construction to provide a dependable HDMI to HDMI connection between devices such as Blu-Ray Disc™ players, HDTVs, DVD Players, stereo receivers, projectors and more.
This high quality HDMI cable fully supports 1080p+ resolutions at up to 120Hz refresh rate, with life-like color. To accommodate the demands of future high definition devices, such as increased resolutions and higher frame rates, this Ultra HD cable supports resolutions up to 4k x 2k.
The HDMM25 25-foot HDMI cable is backed by StarTech.com's Lifetime Warranty. TECHNICAL SPECIFICATIONS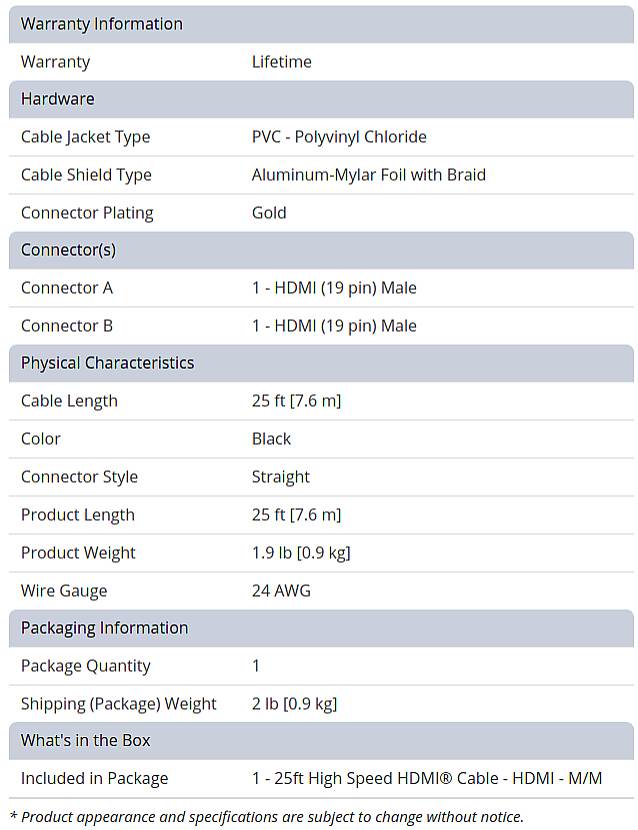 Manufacturer Warranty

Limited Product Lifetime Warranty

Manufacturer Contact Info

http://www.StarTech.com.au