Simplecom CM401 Composite AV CVBS 3RCA to HDMI Video Converter 1080p Upscaling
Delivery
Usually ships within 24 hours*
Paypal/MasterCard/Visa/Amex
SKU#:
CM401
/
ITEM NO: 471267
/
BRAND: simplecom
Shipping Calculator:
Loading...
Picture shown is for illustration purpose only
Please refer to Manufacturer SKU for the exact details

Customer Also Bought
Simplecom CM401 Composite AV CVBS 3RCA to HDMI Video Converter 1080p Upscaling
Description
Simplecom CM401 Composite AV to HDMI converter, is a universal converter for analog composite input to HDMI 720p or 1080p (60Hz) output. If you want to use your VCR, camcorder, or game system on your HDTV or HDMI monitor, simply plug standard composite AV cables (yellow, red, and white) into the input port of the converter, and then connect an HDMI cable from the converter to your TV. It works great with either 720p or 1080p TVs, and the output mode is easily selectable with a switch on the device. This converter's advanced processing allowing you to get the clearest picture quality possible with optimal colour and detail reproduction. Both video and audio are integrated into the HDMI output, providing an all-digital signal to maximize the fidelity of the audio and video.
Features
Converts and up-scales analog composite input to HDMI 1080p (60HZ) output

Both video and audio are integrated into the HDMI output

Advanced signal processing with great precision, colours, resolutions, and details

No need to install drivers, portable, flexible, plug and play

Powered by USB, plug into either a USB wall adapter or a nearby USB port on PC or TV

Supports NTSC and PAL Video Standards

Supports HDMI 720p or 1080p (60Hz) switch selectable
Package Contents
1x CM401 AV to HDMI converter

1x HDMI short cable

1x USB Power cable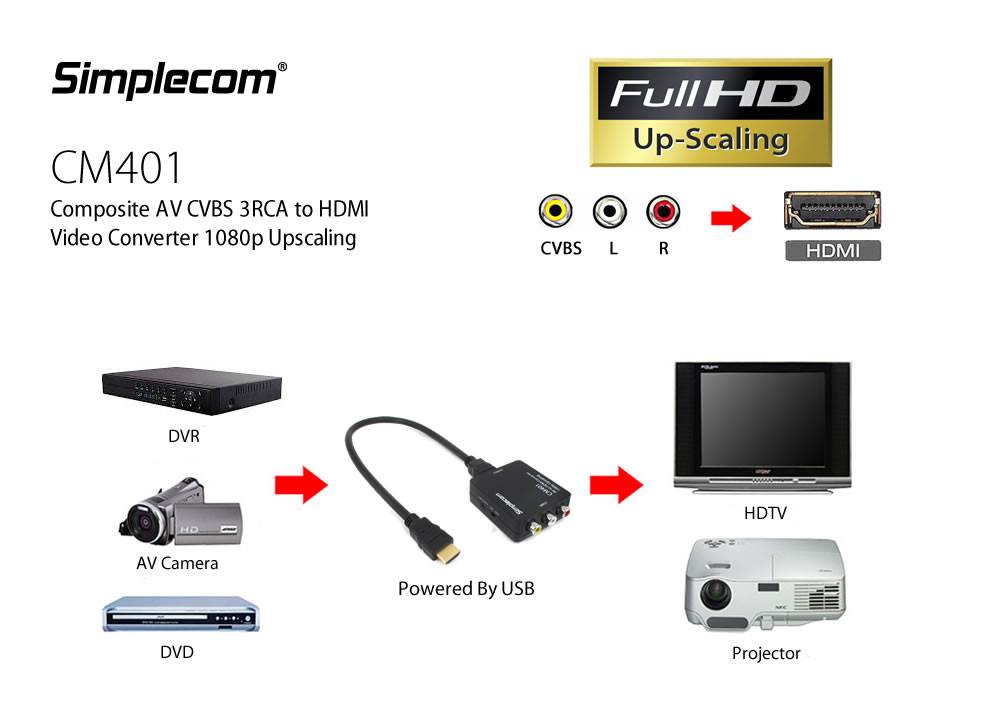 Manufacturer Warranty

1 Year Manufacturer Warranty

Manufacturer Contact Info

http://www.simplecom.com.au/